PRESS RELEASE
All dogs in SD Sheriff's Department K-9 unit now have bullet-proof vests from U.S. Armor
---
SAN DIEGO – The San Diego Sheriff's Department has a brand new tool for its K-9 unit. All 30 dogs now have bullet-proof vests.
"It offers an extra level of protection for the dogs to keep them from getting hurt out there in the field," says San Diego County Sheriff's Department Sgt. Jacob Pavlenko.
As the K-9 unit shows off its brand new bullet-proof vests. It's an investment meant to protect dogs that cost the department thousands of dollars.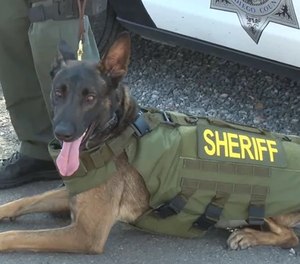 "When a handler knows they're going into a situation where they could be confronting an armed subject, that's where they'll put the vest on the dog before they deploy," adds Sgt. Pavlenko.
Since the vest won't be on the dog all the time, it takes about 10 to 15 seconds to put on. The vests are lightweight, so the K-9 doesn't get tired while wearing it. Similar to a bullet-proof vest for a human, it also protects the dogs body and chest.
"These are ballistic vests, they are to defeat bullets. However, they will defeat slashing moves as well," says George Olsen from U.S. Armor.
Since the Sheriff's Department K-9 unit started back in 1967, one dog has been killed in the line of duty. But, risky situations has the department wanting to keep their four-legged officers safe.
"The dog is just as much a partner as the human, if not more because he goes home with the handler," adds Olsen, "That's a special bond."
Money for these vests was provided by the Deputy Sheriff's Association. The organization paid $16,000 for all 30 of the vests.
About U.S. Armor:
U.S. Armor Corporation, founded in 1986, has risen rapidly to become a leader in the body armor industry. The dedicated team at U.S. Armor is fully committed to a single mission: producing the finest armor products available in the world today. For more than 30 years, we've gone to greater lengths than anyone else to craft vests of exceptional fit, comfort, and protection.

Request more info from U.S. Armor Corporation
Thank You!