PRESS RELEASE
RMA Armament, Inc., announces its new level 4 armor plate (Model #1165)
---
CENTERVILLE, Iowa — RMA Armament, Inc., the King of Armor, the industry's leader in ceramic hard armor performance in law enforcement and civilian markets, is proud to introduce our brand new model 1165 lightweight level 4 plate - a lighter, thinner and STILL affordable armor plate. 
RMA's 1165 Lightweight Level 4 plates are the ultimate expression of our mission; to make the world's best body armor available for all Americans. While lightweight level 4 plates aren't new–they are at this price. Evolving from the tried-and-true high-performance 1155 design, these plates cut weight, thickness, and price. In fact, it's the best value in American-made body armor.  
Made from 100% American materials, we combined our high-performance multi-hit capable Alumina Oxide strike face with a lightweight Dyneema UHMWPE backer to create affordable lightweight level 4 plates.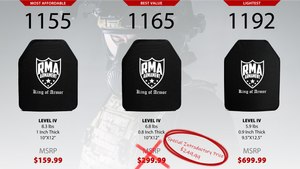 "We're always looking for ways to fill in gaps of need in our armor lineup. While Level 4 plates are the most popular armor plate in American culture today, the need for lighter level 4 armor at an affordable price is still a great need," said RMA founder and owner Blake Waldrop. "This new 1165 plate may not be quite as affordable as the 1155 plate that we're widely known for, but it does provide the best value when you factor in weight, thickness and affordability." 
At launch, the 1165 level 4 plate is a 10x12 single-curve plate with plans to add a multi-curve version on the horizon. To find out more about the Level IV model 1165 armor plate, visit RMA's website at https://rmadefense.com/store/body-armor/level-iv-body-armor/lightweight-level-4-plates-model-1165/  
About RMA Armament, Inc.  
The veteran-owned, Centerville, Iowa-based RMA Armament manufacturers and distributes the world finest, American-made level III, IIIA, IIIA+, and IV body armor plates, plate carriers and ballistic helmets in the world. Its customers include civilians, law enforcement agencies, the U.S. Military and U.S. allies worldwide.  
Utilizing the most advanced high-strength materials in the world like Ultra High Molecular Weight Polyethylene, Alumina Oxide and Silicon Carbide, RMA produces the world's strongest body armor at its production fortress in Centerville, IA. Founder and CEO Blake Waldrop is a U.S. Marine veteran and former Law Enforcement officer who created the company to build stronger, lighter and more affordable body armor. To learn more, visit our website at: www.rmadefense.com.