Golden-i headworn computer
Your next computer may be attached to your head
---
When I was growing up, the only people who wore headsets with speakers on their ears and microphones in front of their mouths were telephone operators and pilots. Cellular phones put headsets more in the mainstream. First there were wired gadgets that tethered to the device in your pocket, and now we have wireless Bluetooth models that make it difficult to distinguish between someone having an animated phone conversation and the fellow who is speaking with the voices inside his head (note to those who have mocked me for doing this: you're just jealous because the voices speak only to me). Soon you may see people with a new headset that allows them to not just hear, but see information you can't.
The Golden-i (like "golden eye," get it?) isn't just a headset. It is a complete, cable-free computer with its own processor, storage, connectivity, speaker and display. The display is the aspect that has the greatest "oh, wow" factor, as it is only about an inch wide and resides in a boom that sits in front of one eye. It looks like a boom microphone that has been raised up a few inches. The wearer sees a display with a virtual aspect of about 15 inches, or around the size of a typical laptop screen. Anything that you could read or interact with on a display of that size is equally operable with the Golden-i. People wearing glasses or goggles can use it as easily as those with bare eyes.
The guts of the computer — the processor, Wi-Fi and Bluetooth radio, and solid state storage — are embedded in the plastic that makes up the headset. It's considerably bulkier than a cell phone headset, more like the devices worn by pro football coaches on the sidelines. The user interacts with the computer via a voice interface from Nuance Communication, which is the company that makes Dragon Dictate (and virtually the sole survivor of the speech recognition software shakeout).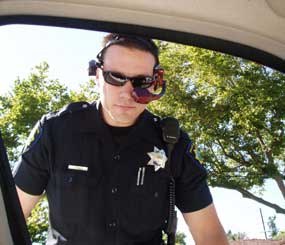 The operating system is Windows Embedded CE, which means it runs scaled-down versions of most Office and other Windows apps. Software is loaded via a mini-USB port, which provides connectivity with peripherals the Bluetooth or Wi-Fi interface can't handle. There is a real-time, solid state six-axis position tracker from Hillcrest Labs, which lets the computer know where it is, which direction it's facing, what position it's in, and allows for some control of the computer by gesture. The Golden-i can also use a camera or scanner.
How would you use a piece of gear like this? Let's say you're working a DUI checkpoint. As vehicles come through, the camera in your Golden-i picks up the license plate and runs it against your state's motor vehicle files. It misses one now and again, so you put those in verbally with the speech recognition interface. This latest plate comes back clear on NCIC and the plate matches the vehicle, but the driver isn't the registered owner.
You obtain his driver's license, tell the Golden-i to switch to the screen to scan the 2-D barcode on the back of the card, and see the return come up on your display. The license is suspended and there are two traffic warrants outstanding for its owner. Please step out of the car, sir. Just in case he wants to challenge this in court, everything you saw and did has been saved to the 32GB Micro SD card in the headset.
Golden-i is a product of Kopin, Inc., but there are several partnered companies involved, and the device is branded with a Motorola logo. It's presently in the developer stage, but developers who want to work on producing applications for it can obtain one for $2500. Two and a half Gs isn't pocket money, but it's an uncharacteristically low figure for a prototype computer product. I wouldn't be surprised to see production models going for 2/3 to half of that, once they start churning them out. You can also expect them to get sleeker with time, and possibly incorporate a see-through interface that combines the display with a camera and makes the computer screen image appear superimposed over the real-world view.

Request product info from top Police Body Cameras companies
Thank You!