PRESS RELEASE
Navy SEALs and Special Ops visit law enforcement video manufacturer
---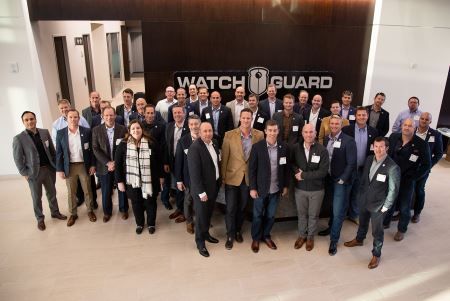 ALLEN, Texas — WatchGuard, Inc. ("WatchGuard"), the leading provider of mobile video solutions for law enforcement hosted Navy SEALs and members of the U.S. Special Operations community at its world headquarters in Allen, Texas as part of its commitment to advancing the mission of The Honor Foundation (THF).
"The Honor Foundation is doing great work serving a real need for a well-equipped group of individuals," said Steve Coffman, WatchGuard President and COO. "Whether in business or military service, having confident and competent people who understand the mission and are intensely focused on achieving it is the best strategy for success."
THF is a unique transition institute created exclusively for Navy SEALs and the U.S. Special Operations community. The organization is dedicated to preparing these outstanding men and women to continue to realize their maximum potential during and after their service career by providing a program for professional development. The program focuses on key transitional readiness themes developed through extensive research and feedback from an extensive alumni network and Employer Partners like WatchGuard.
"Our Employer Partners play a significant role in pushing our mission forward, believing what we believe to their core," said Joe Musselman, THF Founder. "Thank you to the WatchGuard team for recognizing the leadership and talent our Fellows and Alumni can bring to the workforce."
During the visit to WatchGuard, THF members toured the Company's 140,000-square-foot facility and engaged in discussions with WatchGuard executives regarding hiring practices, organizational design and skill sets currently in demand within market-leading technology companies serving law enforcement.
About WatchGuard 
WatchGuard is the leading provider of mobile video solutions for law enforcement. Our products include in-car video systems and body-worn cameras along with evidence management software. Our solutions increase transparency and accountability, improve trust between law enforcement agencies and the communities they serve, reduce agency liability and advance the judicial process. We have supplied our products to approximately one-third of all law enforcement agencies in the United States and Canada.

Request more info from Watchguard Video
Thank You!