PatrolEyes Launches the Most Innovative Body Camera to Date
---
Ada, Michigan StuntCams is an industry leader in the specialty cameras market and now has launched the most innovative police body camera to date. The PatrolEyes by StuntCams is an advanced HD weatherresistant body camera featuring true 1080P HD video, a 16MP still camera, 8 hour battery life, superb night vision, with optional GPS and walkie talkie functionality.
"PatrolEyes cameras are built for the job. By paying close attention to each detail the PatrolEyes was designed to be a userfriendly body camera with the most advanced features, highest quality components, and the longest battery life at a competitive price!" states CEO Mike Gramza.
PatrolEyes is on even when it's not on. Flash buffering preserves disk storage, battery life and continuous holding up to 30 seconds. A quick, simple click then activates live permanent recording retroactively. PatrolEyes also features one of the longest batteries on the market. The PatrolEyes has an optional 8 camera docking and charging station. Included software allows departments to save files direct to a PC or a secure cloud based server, giving the end user the option that best fits their needs. The PatrolEyes logs every action directly to the built in 16GB or 32GB memory which is tamperproof and password protected.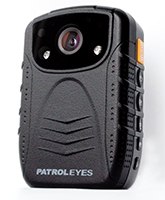 "We give departments a choice. They can choose to use the camera with or without password protection, store data to a PC or send it to the cloud. Giving them this flexibility allows the PatrolEyes to meet the needs of a small police department or a large state police force."
All files are assigned a time and date stamp, and each device allows police officers to uniquely assign a badge ID and camera ID. Additional accessories include a PTT (Push To Talk) walkie talkie function which allows officers to use this camera and compatible cable to replace their handheld device.
PatrolEyes offers a full 1 year manufacturer warranty on all parts and labor and provides friendly, knowledgeable support, based in Ada, MI.

Request more info from PatrolEyes
Thank You!