Walnut Police Department Purchases PatrolEyes Body Cameras
---
Walnut, IL The Walnut Police Department has purchased PatrolEyes HD body cameras.
Walnut Police Chief, Glenn Lawson stated " We chose PatrolEyes based upon price comparisons, software availability and the ability to use as an incar and onofficer camera. This eliminates the current expensive software upgrade for our incar video system. Overall design and functionality of the body camera along with total purchase cost were major factors as well."
Walnut Police was unable to obtain any grants for the purchase of the cameras. Lawson said "Grants appeared to be available for departments with 10 or more officers. Since the cameras are mandatory for law enforcement agencies in Illinois effective 1/01/2016, the village of Walnut approved the funding for the cameras and supporting equipment.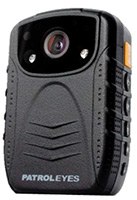 Illinois Governor Bruce Rauner signed into law wideranging law enforcement rules for police body cameras, biasfree policing and more data collection on arrests. The new law specifies how they should be worn, when they have to be turned on and how long recorded videos should be kept.
PatrolEyes is an emerging leader in body worn video devices for law enforcement. With true HD 1080p recording, up to 170 degree field of view and 16GB or 32GB of storage, it can capture hours of footage. Recording can start with the press of a single button, even when the camera is turned off. The built in LCD allows you to review videos, photos or audio recordings in the field.
"Many departments are now seeing the value and reliability in the PatrolEyes brand. We provide departments with affordable options which allow them to deploy a cost effective but efficient body camera program . We give departments a choice. They can choose to use the camera with or without password protection, store data to a PC or send it to the cloud. Giving them this flexibility allows the PatrolEyes to meet the needs of a small police department or a large state police force." states PatrolEyes CEO Mike Gramza.

Request more info from PatrolEyes
Thank You!