Review: A radio nerd checks out the N-Ear 360 Flex radio earpiece
Braided fiber lines and a micro-speaker offer superior sound quality and allow the wearer to hear ambient noise as well as radio transmission for situational awareness
---
Sponsored by N-ear
By Warren Wilson for Police1 BrandFocus
"I can break that." That was my first thought when I opened the N-Ear 360 Flex. I was wrong.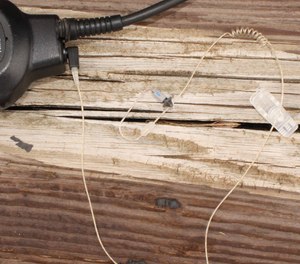 You've seen radio earpieces before. You might even use one, but not like this.
A little background on me might be in order. I put all the cool stuff in my bio: firearms instructor, SWAT, shift commander, etc. I also have experience in public information, traffic, and for five cumulative years, I was my department's 911/Communications Center Commander. Now that I've made that public, I feel comfortable admitting to being a bit of a radio nerd. There are GMRS (General Mobile Radio Service) units mounted in my home, Jeep and motorhome. Those radios are supplemented by about a dozen HTs (handheld transmitters, or "walkies").
Why the Flex is aptly named
We use earpieces to enhance our ability to hear radio traffic because our environment is often extremely loud. N-Ear is on the forefront of this technology. (See our discussion of the original 360 here.) Now, the really cool thing is that N-Ear now offers an upgraded 360 Flex. N-Ear sent me an original 360, a 360 Flex mono and a 360 Flex double mono to test.
Acoustic Tube vs. Braided Fiber Lines
Before I'd heard of N-Ear, I thought acoustical tube earpieces were the only option available for earpieces, like rubber tires for a patrol car.
The 360 with its braided fiber lines is a game changer, in my view. It's incredibly small and lightweight. The micro-speaker disappears deep inside the ear canal. If the user doesn't like that option, they can also choose from some more traditional, "tulip" or double flange earpieces. The 360 Flex comes with upgraded round ear tips with two vents for situational awareness and zero occlusion/ear fatigue.
All of these options allow the wearer to hear ambient noise, as well as radio transmissions, to maintain situational awareness.
The ear fatigue struggle is real
Anyone who's used an earpiece with their radio for long periods can understand ear fatigue. I have a hard time with earpieces during extended use. During SWAT practice or callouts, I often found myself distracted by the discomfort and constant shifting of the ear tips, partially due to the weight of the acoustic tube.
The 360 solves that problem with its patented "ear bend." A small section of the cord from the ear tip is molded to bend over the top of the ear and toward the ear canal. Between the ear bend and the extremely light weight Denmark-designed micro-speaker, the 360 and the 360 Flex stay in place and are more comfortable than any other earpiece I've used.
Both left- and right-ear versions are available for the standard 360. The upgraded 360 Flex earpieces are ambidextrous. Both versions can be purchased with a single earpiece (mono) or two earpieces (double mono) for enhanced hearing potential.
Cop Proof
Any review of law enforcement products should have a focus on durability. Cops have a particular talent for breaking equipment. In the introductory paragraph, I addressed the appearance of fragility of the ultra-thin wire of the 360 Flex. It looks very much like a tiny, unshrouded speaker wire. The thickness of wire is only 0.9mm (0.03543 inch).
Looks are indeed deceiving in this case. In actuality, the wire is braided fiber line with 56 electronic wires reinforced by 267 strands of Kevlar. The wire looks fragile, but it actually has a pull strength of 27 pounds, which is about three times that of a traditional resin-clad wire. The earpiece is IP67 rated, which means it's completely dustproof and won't give up the ghost while you're directing traffic in the rain.
Maintenance Managed
If you've used an earpiece for a period of time, you know there are some maintenance issues. Well, really just one issue: ear wax. It's not a fun topic to discuss, but it can be a problem. Ear wax plugs up the speaker, and the only way to clean it out is with cotton swabs and toothpicks, in my experience.
N-Ear has considered that. The 360 has a filter between the speaker and the ear tip. When it becomes clogged, it is simply removed with the provided tool and replaced with one of the eight extra filters that come with the unit. The user can purchase eight more from the N-Ear website for 20 bucks. That definitely beats picking ear gunk out of your equipment with a toothpick on your days off.
Other Flex Upgrades
The Flex 360 has other upgrades as well. The micro-speaker of the Flex has a 12-15 decibel gain in volume. That combined with the new, round ear tip gives the user an even better sound signature than the original 360.
Granted, I tested both models at the same time, and I still had difficulty discerning the difference between the two models at first, as they are both such an improvement from the acoustic tube.
The upgraded speaker in the Flex also works better with Bluetooth devices and, especially cellphones. N-Ear also offers accessories, such as push-to-talk units, including a wireless Bluetooth model. Most importantly, all of the upgrades are compatible with the original 360, including the ear tips.
The fine print
Pronounced, "near" N-Ear is an American/Danish (founded in Denmark)-based company that is doing something special. N-Ear offers a two-year warranty and a 120-day, no questions asked, 100% money back guarantee. I've been told there is a federal law enforcement agency currently testing the 360 Flex. This product is a true advancement in technology and will enhance officer safety and communication.

Request information from N-ear Inc.
Thank You!