Sensear muffs provide secure, clear communication
Devices cancel sound without sacrificing situational awareness
---
By Scott M. Bruner
Police1 Product Editor
One of the more intriguing products for the public safety field at March's IWCE show in Las Vegas was Sensear's line of ear muff devices. The muffs are not only able to provide two-way radio communication while silencing extreme levels of ambient noise, they are also able to identify and amplify nearby voices. The result is the ability to maintain face-to-face communications at even the highest decibel event.
"What's unique about these products compared to anyone else is we also enable situational awareness," David Cannington, chief marketing officer for Sensear said. "Regular ear protection gets rid of all sound, and you don't have any idea of your surroundings. We drop all of the sound to 82 dB. Then, two microphones in the muff deliver situational sound so you can still hear what's going on and be able to communicate, which is very important from a safety perspective."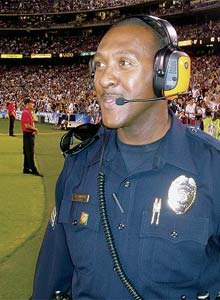 Sensear's ear muffs work through a patented technology known as SENS (speech enhancement noise suppression). It combines microphone arrays in the muffs to pick up surround sound and uses digital processing to differentiate between ambient noise and voice patterns. By picking up the voice patterns, it enables the user to be able to hear nearby speech without noise interference.
The muffs are designed, according to Sensear, to lower sound while not sacrificing the ability to be aware of surroundings and still being able to communicate. The public safety applications for the Sensear muffs range from incident management to security in high noise environments such as a concert or sporting event. The San Diego Police Department has used them for security at San Diego Chargers home games.
"In Brazil, with Carnival and the huge amounts of people in a high noise environment, they're testing them out. In those situations, it's very critical for police to have a reliable communication capability," Cannington said. "Having the ability to communicate clearly, and maintain situational awareness, can potentially save a life."
Sensear offers three versions of their ear muffs, their base SM model, the SM1, SM1x and the SM1xSR. All offer noise-reduction ability with voice amplification. The SM1 also features two-way radio ability, the SM1x adds blue-tooth capability, and finally, the SM1xSR has all of those features as well as a muff-to-muff communication capability.
When the San Diego Police Department used the SM1x model, they simply connected the muffs to their Motorola radios and then synced them to their Bluetooth cellphones. Sensear also offers a line of earplugs with similar capabilities.
The SM retails for $399, the SM1 is $499, the SM1X is $599 and the SM1XR is $799.
Sensear is an Australian company with innovative and award-winning technology that enables clear speech communication in a range of high noise environments. You can find them on the Web at www.sensear.com.

Request product info from top Police Secure Communications companies
Thank You!