Expand your career options with these online criminal justice programs
Master's students can simultaneously earn a specialized certificate to further enhance their professional opportunities
---
Sponsored by University of Cincinnati Online
By Courtney Levin, Police1 BrandFocus Staff
Committing to higher education is an admirable decision, particularly for law enforcement officers who are busy juggling a full-time work schedule. However, earning a college degree is more practically achievable than it used to be, thanks to online education.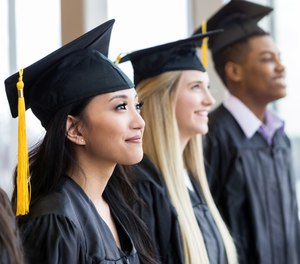 While a variety of online options have been available for some time, University of Cincinnati Online has distinguished itself as one of the best U.S. online higher education institutions according to U.S. News & World Report. Its courses are taught by faculty with over 20 years of expertise in delivering online education.
University of Cincinnati Online offers both bachelor's and master's degree programs in criminal justice, along with three specialized certificates. Unlike other online programs, UC Online provides a completely remote experience with zero mandatory campus visits – not even for a graduation ceremony, unless desired.
The curriculum for the criminal justice programs and certificates is asynchronous, allowing students to complete the material at a pace that works best with their schedules. Individuals can access class material at any time, making it particularly easy for those working evening and graveyard shifts to finish coursework without interrupting their careers.
A POWERFUL EDUCATION
University of Cincinnati Online's criminal justice programs are designed for individuals looking to enhance their career options within law enforcement and other related fields. Many of its students already work in the law enforcement field and see earning a degree as a means to open promotion or leadership opportunities.
When creating the criminal justice curriculum, UC Online paid careful attention to developing programs that provide the comprehensive education one would expect from a top-ranked institution.
"I think in recent years, the notion that online degrees are not as powerful has been dispelled," said Matt Jacobsen, strategic marketing manager at University of Cincinnati Online. "Students want to ensure that the quality of the degree they're earning online is good, if not better, than what they could get on campus."
To achieve this goal, UC Online employs the same faculty for its online programs as its on-campus classes. The criminal justice faculty on both the undergraduate and graduate teams feature multiple award winners with large bodies of published work.
MANY OPTIONS TO CHOOSE FROM
The program offers multiple pathways for law enforcement officers who want to expand their education, with some requiring a longer commitment than others.
A bachelor's degree in criminal justice can be obtained with the completion of 120 semester credits. Many students enroll with incoming credits that can be applied to their degree, and UC Online offers experiential credit for those with career experience. Students who already hold an undergraduate degree can enroll in the master's program and receive their degree with the completion of 33 semester credits.
Law enforcement officers who want to focus on a particular area of expertise can also choose between three different criminal justice certificates as a stand-alone option. However, master's students who complete their program in full will find that they can expand their credentials even further without any additional effort or tuition.
"Almost every single one of our master's students graduates with the correct credit hours to earn at least one of these certificates," said Jacobsen.
Each certificate option provides added value, with curriculum that varies to focus on specific areas of law enforcement:
The Crime Analysis and Prevention certificate examines the fundamentals of crime prevention, including a discussion of basic theories, crime mapping, police effectiveness and advanced crime analysis techniques. An understanding of statistics is required, and several electives focus heavily on the use of various types of software.
The Analysis of Criminal Behavior certificate is centered around different types of criminal offenders and details various forms of criminal behavior, including cybercrime, terrorism and white-collar crime. The juvenile justice system is covered, as well as biosocial factors that contribute to serial offending.
The Correctional Rehabilitation certificate explores the rehabilitation and treatment of criminal offenders while paying attention to community corrections theories, practices and considerations of special populations. A variety of electives are available, including classes with an emphasis on responsiveness, staff effectiveness and behavior management.
University of Cincinnati Online's certificate programs require only a $20 application fee, with some students eligible for a fee waiver.
INCREASED CAREER OPPORTUNITIES
A career in law enforcement is unique in so many ways, yet advancing within this profession often means deciding between two traditional options – working up the career ladder over time or engaging in higher education to advance more quickly up the ranks.
With a degree in criminal justice from University of Cincinnati Online, law enforcement professionals can take advantage of advanced opportunities earlier in their careers. Desirable positions requiring a degree become more attainable after completing a criminal justice program, and opportunities that hinge on specialized knowledge are easier to achieve with specific curriculum like that of UC's certificate programs.
It's no longer necessary to spend years on the job to acquire industry knowledge and wait for a promotion. Thanks to programs like UC Online, law enforcement officers can engage in education that compliments their real-life experience and provides a pathway to greater success.
Visit University of Cincinnati Online for more information.
Read next: 21 top jobs you can land with a criminal justice degree

Request information from University of Cincinnati
Thank You!