Making continuing education affordable through cost savings and scholarships
University of Cincinnati Online's programs in criminal justice can advance your career more affordably than before
---
Sponsored by University of Cincinnati Online
By Police1 BrandFocus Staff
There is no doubt that law enforcement officers who upgrade their educational credentials enhance their career opportunities, both in terms of salaries and promotions.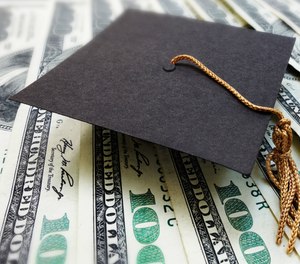 It's not just a matter of updating and enhancing one's level of knowledge as certified by an accredited institution of learning, although this certainly helps. Investing the time and money to achieve a bachelor's or master's degree in criminal justice proves an officer's commitment to their career, their department, and their community in real, tangible terms. This is a measurable, official mark of law enforcement excellence that the brass can take notice of — and do.
Of course, it does take time to enhance one's certified credentials, which is why flexible, fully online bachelor's and master's programs in criminal justice such as those offered by University of Cincinnati Online make sense for law enforcement officers. These courses feature the same content and qualified instructors offered in UC's in-person classes on campus, but in a format that meets the scheduling and locational needs of students across the United States and beyond.
As for cost? To make online education more accessible to officers everywhere, UC Online is offering a range of cost savings and scholarships to lower the price of self-improvement — literally.
"Our degrees unlock brighter futures for our students," said Matt Jacobsen, University of Cincinnati Online's senior marketing manager. "Because we care about their futures, UC Online is doing whatever we can to help more of them achieve their goals."
TAKING THE FIRST STEP IS NOW FREE
The first step in achieving a UC Online bachelor's or master's degree in criminal justice is to apply. To ease the burden on potential new students, University of Cincinnati Online has waived the application fees for these programs.
That's right — people applying for Fall 2023 and Spring 2024 semesters can now do so for free. "This is a cost savings of $50 for the undergraduate bachelor's degree and $65 for the graduate master's degree," Jacobsen said.
If you are interested in enrolling in UC Online's criminal justice programs, you can now test the waters at no cost (or risk) to yourself.
SCHOLARSHIPS TO EASE THE BURDEN
Those looking for ways to help pay for their online education don't have to look very far. University of Cincinnati Online recently created a new scholarship for Summer 2023 students – up to $2,000 to cover the tuition cost of their first class. This program was so popular that UC Online is once again offering this benefit to all master's students who will begin their enrollment in Fall 2023. But that's not all – several additional scholarship opportunities are available for students who meet specific criteria.
When University of Cincinnati Online says, "Thank you for your service" to our troops, they mean it. This is why UC's College of Education, Criminal Justice, Human Services, and Information Technology (CECH) is offering a newly created scholarship to military (active-duty and reserves), veteran and National Guard students. Depending on the student's eligibility, this scholarship will pay up to $2,500 of each student's tuition costs per semester.
"CECH created this scholarship to honor all active-duty and veteran service members, from all branches of the military and reserves, for their service and commitment to our country," said Teneisha Dyer, UC's director of CECH marketing and recruitment. "We are hoping to lighten the financial load and provide these students the opportunity to pursue their dreams in higher education — which allows them to reach their educational and career goals."
To be eligible for this scholarship, a military/veteran/National Guard student must be newly admitted as of the Summer 2023 semester or later, pursuing a CECH undergraduate or graduate degree such as those offered in criminal justice, and not be a spouse or dependent of UC instructors or staff.
As for the amounts: Eligible full-time students in UC Online undergraduate and graduate degree programs will receive $2,500 per semester and part-time students will receive $1,500 per semester. For bachelor's degrees, this translates to up to 10 semesters for full-time students and 16 semesters for part-time students. For master's degrees, this means up to four semesters for full-time students and up to six semesters for part-time students.
Finally, Fraternal Order of Police members and their dependents are also eligible to receive scholarship funds that cover 20% of instructional fees for either the bachelor's or master's online criminal justice programs.
THE RIGHT EDUCATION FROM THE RIGHT UNIVERSITY
Even with price breaks and scholarships, online students need to be confident that the education they're paying for is worth it — that it truly offers the opportunity to advance their careers and earning potential now and for years to come.
One way to assess the quality of an online school is to see how it stands up against the competition. To this end, U.S. News & World Report ranks the academic quality of over 1,800 colleges, schools and programs across the country (and the world) each year — and only the best schools are included in its assessment. In 2023, the magazine ranked UC Online's master's in criminal justice program ninth-best in the country.
Another way to assess a school's quality is its attitude toward students. Do their needs come first?
Consider this: UC Online's criminal justice programs are asynchronous. This means students can complete their online courses at a pace that works best with their schedules, not the school's. Students can even access class materials at any time. This allows officers working evening and graveyard shifts to finish their coursework just as easily and conveniently as those working the day shift.
"In fact, University of Cincinnati Online students never have to come to campus to complete their degrees," said Jacobsen. "This includes graduation, although we are always delighted to include our online students in our ceremony. After all, they worked as hard as our in-person students for their degrees, and their achievements mean just as much to their employers. This is why online and in-person degrees all receive their diplomas from the University of Cincinnati. We make no distinction."
Add the well-respected scholars who teach at University of Cincinnati Online and law enforcement students can be assured that they are getting the best education for their money — and now they get to spend less of it.
Visit University of Cincinnati Online for more information.
Read next: Expand your career options with these online criminal justice programs

Request information from University of Cincinnati
Thank You!