PRESS RELEASE
Move up through the ranks with an online criminal justice degree
---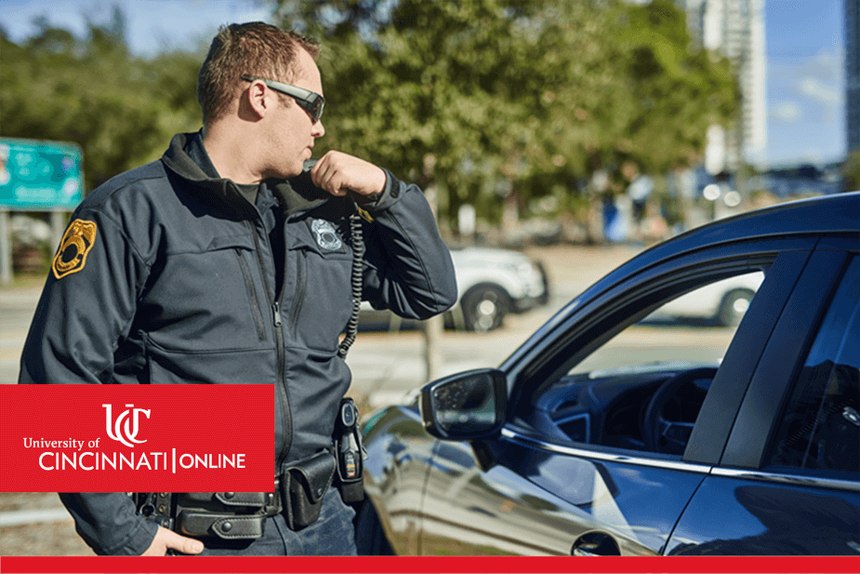 While a degree may not be necessary to become a police officer, if you want to stand out and seek advanced career opportunities and leadership roles in public service, a degree in criminal justice can put you on the right track. And University of Cincinnati Online can help you fast-track your career journey with both bachelor's and master's degrees in criminal justice.
Your Journey to Advanced Opportunities
Criminal justice is more than just law enforcement — it includes the courts and corrections and rehabilitation. Within each of these systems, there are dozens of job opportunities for well-trained, highly-educated individuals with a comprehensive understanding of the criminal offending and justice processes.
Whether you're interested in pursuing a career in criminal justice, or looking to take the next step in advancement, your professional journey begins with earning your bachelor's degree through UC's renowned School of Criminal Justice
Bachelor of Science in Criminal Justice
In UC Online's BS program, you'll undergo 120 credits of instruction that span across the breadth of criminal justice and criminology. Our courses will develop your understanding of the field's inherent challenges, explore ethics and morality, and dissect research on violence and crime in America. By graduation, you'll not only have improved your chances of admission into graduate school, but will have prepared for positions in law enforcement, loss prevention, corrections and supervision, and safety and security in both the public and private sectors. And with the flexibility of our online format, you'll be able to continue working while earning your degree.
Now that you have your bachelor's, what's next? You could use your new degree to help support your case for a salary increase or explore new areas of opportunity in both government and private sectors. Or you could do that and further your education and career by continuing forward to pursue your Master of Science and gain the skills you need to be a transformative leader in the field of criminal justice.
Master of Science in Criminal Justice
Ranked 9th in the country by U.S. News & World Report, UC Online's MS program is taught by the same nationally renowned faculty who teach our on-campus program. The program offers 33 credits of instruction — educating you the conceptual and theoretical frameworks that inform the study of crime and criminal justice; to assess problems through a rigorous research approach; and to conduct high-level policy analysis. By selecting from one of our three distinct concentrations — Analysis of Criminal Behavior, Law Enforcement & Crime Prevention, or Corrections & Offender Rehabilitation — you'll be able to focus your education on the area most relevant to your career.
This degree can be completed in one year of full-time study or two years of part-time study — offering you the flexibility to work while pursuing your degree. Upon graduation, you'll be ready to assume leadership roles in the criminal justice system or even pursue a career in university research.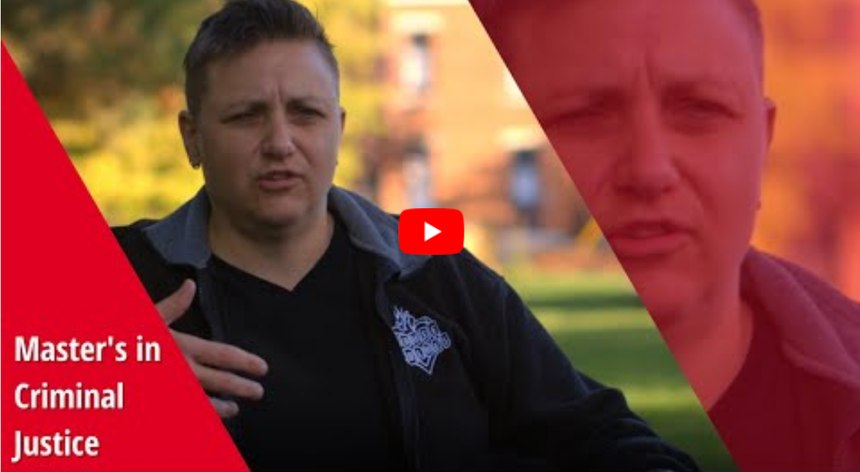 Why Choose UC Online for My Degree?
Here at UC Online, we pride ourselves on the success of our graduates — success that is cultivated through our established programs and schools. Consistently ranked among the top 15 in the country by U.S. News & World Report, our School of Criminal Justice offers flexible paths to allow you the freedom of working full-time while completing your education. Plus, with no GRE requirement* and a 20% tuition discount for all Fraternal Order of Police members**, you can focus on what matters most — your future.
Summary
As society continues to evolve, so does the need for well-trained, highly educated criminal justice professionals. Through the School of Criminal Justice's online degree programs you'll gain a strong foundation in core law enforcement and criminal justice disciplines to begin your career, then equip yourself with the knowledge and skills needed to pursue advanced leadership roles — and you'll do it all from wherever you're located.
Ready to learn more? Explore our online programs to discover how you can achieve your goals with a business degree from the University of Cincinnati Online; or take the first step in advancing your career by beginning your application today.
* The GRE is not needed for the master's program with a 3.0 GPA or higher
** Fraternal Order of Police tuition discount is only applicable to the master's program

Request more info from University of Cincinnati
Thank You!