Roundtable: How to land a job in academia
There are key steps officers can take throughout their LE career in preparation to teach in an academic program
---
By Police1 Staff
There are many job options available for police officers after retirement. Planning a successful transition from working in law enforcement to another profession should begin early in every officer's career.
In this roundtable, we asked Police1 columnists and subject matter experts what advice they would give a police officer looking to land a position teaching in a college.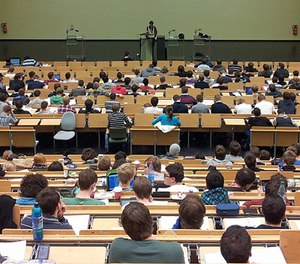 If you have successfully transitioned into a teaching position, please share your story in the comments below or email editor@policeone.com.
Build your resume during your police career
I am a full-time college instructor and a part-time writer. I teach criminal justice at a couple of different institutions. When I retired from my career as a police officer, I really did not know what I was going to do. I didn't plan to be an educator, but I knew I enjoyed teaching. However, I have always practiced the same thing since I first was sworn in: resume building.
Everything you do in law enforcement is about building your resume. I didn't know where I would apply this practice, but I knew it would benefit me somewhere. Here are three steps I would recommend:
1. Prepare yourself to be valuable to your students
The first time I ever had to attend a preliminary hearing, I became fascinated with the court process. I didn't sit around saying, "I hate being in court." I decided that my time waiting for my case to go could be put to good use.
One of the first drug cases I had required using a professional expert to interpret the drugs I had seized. We used an agent from the consolidated task force to testify about my case. As the agent ran his curriculum vitae in testimony, I held on to every word. Once my arrestee was held to answer, I asked this agent in the hallway how he got where he was. He told me, "Resume building." He explained that he kept a ledger of every single class he ever took, every time he talked to other officers about drug cases, every arrest he made, every time he testified and what he learned from each case. He told me he worked hard to establish an expertise, and then maintained a way to prove that he had the requisite experience.
I got myself a PDA (personal data assistant) and recorded every moment of my training and experience in drug cases. After conferencing with the Deputy District Attorney who did intake for drug cases, he agreed to voir dire me on a possession case. After a couple of years, I was able to give expert testimony in a number of different aspects of drug cases, for a number of different types of drugs.
At one point in my career, I was averaging one felony and one misdemeanor drug case per day, which was punctuated by labs, mobile labs and other cases attached to them.
I had several amazing advantages. Most coworkers thought that some of the jobs I took over the course of my career were tedious. For example, I worked inside the county jail as a medical officer, which meant I had to escort medical personnel and inmates to appointments and maintain safety and security while these appointments took place. One of my responsibilities was to assist the doctors and nurses in checking inmates with medical conditions, including being under the influence of drugs.
Consider this: it was our policy to check a person under the influence of heroin every 15 minutes. At one time, I was the only person in the county who has seen every phase of heroin withdrawal every 15 minutes with dozens of patients. I am an expert in viewing track marks and describing the extent of the user's habit. Who else could describe this in their resume? Guess who now teaches a class in recognizing drug use?
Everything you do in your career could have training value. The question is, will you have 10 years of experience, or one year of experience repeated 10 times?
2. Prepare yourself academically
It is important to have the correct degree for a particular job. Most educational organizations require degrees that are relevant to the subject for which you will eventually teach. Degree requirements are part of a list of minimum standards.
I recommend that a young officer who wishes to eventually teach to ask the dean or department chair of the local college what sort of degree is required for teaching. The minimum standards list is usually available to the public.
For criminal justice instructors, you will generally require some time working in the field. Just for clarification, many, if not most, universities don't require any experience in order to teach some aspect of police sciences. If you are the type of person who doesn't see this as a problem, you are part of the problem.
A note to dinosaurs: There is no excuse for technological incompetence. Know and understand how college classes are taught in different modalities. Most colleges expect that instructors will have some sort of technological competency in 2018.
3. Establish and maintain relationships 
Everyone in LE must have personal policies in their practice to keep current on case law, policing trends and the needs of law enforcement agencies. Once an educator is out of the policing business, this could be a challenge. It is critical that they maintain relationships with officers in the field. There are plenty of ways to do this, but I have found the best way is to always mentor someone.
If you are thinking of teaching for a particular college, establish a relationship with a college now. Most colleges will have an advisory committee, or some sort of committee that gives input to the curriculum of the program, either through public forum or designated committees. For example, our college's program has an advisory committee whose activities directly influence what is taught in the classroom.
In our advisory committee there was a shared concern among local agencies that officers were lacking in report-writing skills. We modified the degree so every student who completes the degree has completed a specified report-writing class that meets a specific standard (Lindsey's note: A quick glance at the Course Catalog will show that my name is literally on the program. As long as my name is on it, this standard will prevail).
If you are thinking about teaching for that college, or a similar college in the region, get active on the advisory committee.
I teach several classes in which I invite guest instructors or mentors on a regular basis. These are online classes, so our guests really get an opportunity to converse with students. In one class, students are given investigations problems and encouraged to ask questions of their mentors. For me, it is a great opportunity to see how future instructors will interact with students. Talk to the local criminal justice instructors to see if they do anything similar.
Lindsey Bertomen teaches criminal justice at Hartnell College in Salinas, California. 
Be passionate about teaching
The key to teaching in academia either while working in the field, shortly after retirement, or switching careers all together, is passion. Any officer looking to teach the future leaders of law enforcement must be passionate about teaching, not just fieldwork.  It is not enough to walk into a classroom and share war stories (although the students certainly do love that). It is about putting theory into practice and teaching them that integrity and professionalism begin in the classroom. The earlier the students understand the complexities of being a professional, whether in uniform or off the clock, the better chance they have at being an authentic law enforcement officer.
Academia is not for everyone and I suggest becoming a trainer within your department before making the leap to teach college students. Guest speaking for college classes is also a great way to see if your passion lies within educating. Without passion, you are no more than a robot, standing in a room, barking empty words at students. In order for students to learn, they must feel your passion around the subject. If you are excited, they too, will be excited. Passion has a domino effect on other.
Jenna Curren, MS, is an assistant professor of criminal justice.
Continue your education before becoming an educator
You will be able to teach with a bachelor's degree at most colleges combined with the fact that as a veteran of several years in policing you will qualify as a subject matter expert (SME).
That said I would encourage you to continue with, at a minimum, your master's degree to remain a level above your students. An EDd, PhD, JD or other doctorate is necessary to attain a tenure track position with better pay and promotions or advancement opportunities. 
Prepare for the shock that unless you go to teach at Unicorn University where law enforcement is seen as a noble profession, you will otherwise be greeted by the anti-law enforcement attitude. There is a wave afoot to decriminalize crime and treat offenders as victims. 
Tomorrow's criminal justice students need to hear the other side of the issues. Academic freedom calls for balanced lecturing and students looking to get into the profession appreciate the perspective that police are a vital part of society. 
James Dudley is a member of the criminal justice faculty at San Francisco State University.
Take every opportunity to deliver training
For law enforcement officers interested in teaching in an academic program, I would first recommend taking every opportunity to gain experience as an instructor. For example, officers could offer to conduct internal agency training programs, volunteer to educate the public, or find similar teaching opportunities.
Since officers consistently use communication skills in the performance of their jobs, most, at least in my experience, feel surprisingly at ease once they step foot in a classroom setting. However, it's important to make sure officers truly love being an instructor and feel confident it's a good fit for their personality and career goals. Gaining experience as an instructor will also help boost an officer's resume and demonstrate their ambition and eagerness for teaching.
As soon as an officer determines they truly like teaching, I suggest pursuing a graduate degree since most colleges and universities require candidates to possess a minimum of a master's degree. Earning a graduate degree, coupled with field experience, will improve the officer's marketability during the job search. It's important to remember that earning a degree can take time, especially when officers are also working full-time. I recommend officers start their degree as soon as possible and stay realistic when it comes to how many courses they can take at one time while also being a working professional.
I also suggest officers start networking, and LinkedIn would be my recommendation of where to start. Officers should search for adjunct position openings at a local colleges or universities and start networking with faculty and administrators there. While LinkedIn is a great place to start the search, officers should also strive to meet administrators and other faculty members face to face. Sometimes administrators need short-term instructors for courses and if they know you're interested, available, and local that may be your foot in the door for future available positions. Teaching even a semester or two at a local university can help officers build their teaching resume and gain needed experience.
Dr. Michael Pittaro is an associate professor at the School of Security and Global Studies at American Military University.
Refine your communication skills
My most obvious reply would be to advance your academic credentials so that you have the educational background necessary to qualify to teach in the academic world. Assuming that is a given, my best piece of advice is to take advantage of every opportunity you can to train or instruct others, or to speak in public. Teaching at the academic level requires a refined set of communication skills that are necessary to convey complex theories and ideas to others, and ensure comprehension. The most effective academic instructors have developed their delivery methods and communications skills over many, many years of practice. When these skills and abilities are at their peak, they enhance the communication and learning process.
Barry Reynolds is director of the Center for Excellence in Public Safety Leadership and an associate professor of criminal justice at Cardinal Stritch University in Milwaukee.
A master's degree plus specialty knowledge can open doors
I am often contacted by active law enforcement and corrections officers interested in employment and/or careers in academics. Having navigated this transition myself and helped many officers do the same, I can hopefully provide a bit of guidance to make this a successful process. Be aware, however, that my recommendations today may have a shelf life. For example, while experience and a graduate or master's degree was all that was needed years ago to make the transition into academics, times and conditions have changed.
Today, to get hired by many academic institutions, officers need a terminal degree such as a PhD or Doctor of Criminal Justice (DCJ) to get through the initial screening conducted by human resources (HR). Presently, I run one of the largest criminal justice departments in higher education as the program director of criminal justice at American Military University. For every job opening I post, I receive about 200 or so applications. HR does its initial screening and forwards me the "top 10" or "top 20" candidates. All applicants have both years of experience in law enforcement or corrections as well as a PhD or DCJ. Those applicants with "just a master's" would never make it to my desk. That master's degree no longer opens the doors it did just 10 or 15 years ago.
That being said, it is not impossible to get hired with "just a master's" degree. Candidates with certain specialties can and do find employment in academia without a terminal degree. Actually, my last hire had multiple master's degrees and no terminal degree. I was able to hire that individual due to experience in a specialty area I was seeking, in this case, public safety use of unmanned aircraft systems (UAS). Specialties such as UAS, digital forensics and cybercrime may be some of these specialty areas. Unfortunately, for many officers, specialties like SWAT, hostage negotiations, investigations, training and chief/sheriff positions (just to name a few) are often not specialized enough to get around the need for the terminal degree.
Dr. Chuck Russo is program director of criminal justice at American Military University.
Readers respond
When I started my law enforcement career at age 23, I thought I would "do my 30 years" and retire.  Coming from a law enforcement family, I had always wanted to be a police officer. For the next 17 years I proudly wore my badge and tried to make a difference in the community. Unfortunately, my career was cut short by an injury. I still remember sitting in the doctor's office and listening to him tell me my law enforcement career was over. I felt like I had been punched in the stomach. I won't lie, this tough cop sat in his car and cried knowing his career was over. All I wanted to be was a police officer. I was 40 years old. I was too young to retire, but what was I going to do now? 
A few years prior to my medical retirement, I had gone back to school and obtained my bachelor's degree in the hope of promoting to lieutenant. After receiving my degree, I was approached by a retired police officer who asked me if I was interested in part-time teaching. I told him I had thought about it so he had me contact a friend and former co-worker of his who was the criminal justice program director at a technical school. I applied for a part-time position and was hired shortly thereafter to teach an Intro to Criminal Justice class one night a week. Once I started teaching the class, I realized I loved the idea of teaching the next generation of law enforcement professionals. I discovered that most of the students were eager to learn and had the passion I had at a young age to get into law enforcement.  
After I retired, I was offered a full-time teaching position at the technical school. I taught there for five years and then applied for a professor of criminal justice position at a local community college that also had a modular police academy. I was offered and accepted the position and after a couple of years had the opportunity to become the coordinator of the modular police academy. I have now been teaching at the college level for nearly 10 years. I never dreamed this would be my career path. I sometimes miss the "streets" and wish I could have "done my 30," but I wouldn't trade my career for anything. I can't wait to walk into class every day knowing I will be talking with young, and sometimes older, people who want to learn and are eager to start his or her career in the field I love. 
For those wanting to get into academia after retirement, or after a life-changing event, my advice is to continue your education. Education can never be taken away from you and you can always use it in another career field. If you want to be a good teacher, be the person who is outgoing and can connect with your students who come from all different walks of life and backgrounds. Be excited about your new career. The students want to hear about your career, your mistakes, your accomplishments and the path you took to get there, whether it be easy or lined with obstacles. I used to feel I couldn't make a difference anymore since I was no longer a police officer, but the difference any of us can make in the classroom can be life-changing for a student. We are all role models in uniform, but we can be even bigger role models in the classroom. For all of my brothers and sisters still in uniform, stay safe out there. For all my retired brothers and sisters, thank you for your service. For any of you wanting to continue to make a difference in people's lives in the classroom, good luck and I hope my story has helped. 
Sgt. David Noblett retired from the Chowchilla Police Department in Chowchilla, California. He is currently a professor of criminal justice and P.O.S.T. coordinator at Merced College in Merced, California.

Request product info from top Police Continuing Education companies
Thank You!