PRESS RELEASE
Code 3's new Covert Lightbar - thin & versatile emergency warning
---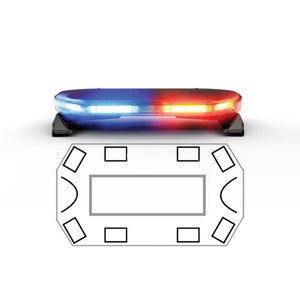 St. Louis, M0., – Code 3 is excited to announce the latest Matrix® Enabled lightbar that delivers powerful warning, features ruggedized, weather-resistant housing and strikes a discreetly sleek profile. Measuring only 1.6 inches high, the Covert Lightbar packs a luminous punch with its dual- or tri-color LED light heads. With improved off-angle performance and additional design enhancements, the Covert is the most versatile and optimized lightbar on the market today.
The Covert is engineered to withstand tough conditions and reliably perform a variety of jobs. The build and materials set this lightbar apart from the competition. Thicker lenses and stronger frames resist wear, tear and warping, extending the overall service life. The lens also includes an upgraded design to reduce moisture build-up, ensuring clear light output even while working under extreme weather conditions. Additionally, a built-in photocell can be used to trigger dimming functionality, improving visibility at night. There is adequate space available in the lightbar housing to install an emitter and solar panel. 
Available in nine lengths and five top-cover colors, the Covert can be customized for any application in the fleet. Customize the dual- or tri-color light heads with combinations of red, blue, white, amber and green colors. Flash patterns are limitless. They can be easily configured and synched with other Matrix-compatible products using the intuitive software interface. Installation is a breeze with multiple mounting options available and a simple CAT-5 connection to the Matrix Z3 Siren or serial interface box (SIB).
The Covert offers a durable and reliable solution for agencies that require a robust, low-profile emergency warning system. Code 3 understands that each fleet has unique operational needs. Not only can customers configure their lightbars to order, but the tool-free chassis allows for quick reconfigurations throughout the lightbar's duty life. The Matrix software provides fleet managers complete control to program flash patterns and functionality based on vehicle actions. Code 3 builds the industry's most advanced emergency warning solutions so that individual fleets can truly own them and adapt to community and public safety standards.
About Code 3
Code 3, Inc. develops, engineers and manufactures a complete line of vehicle lighting and emergency systems for first responders and public safety professionals. Headquartered in St. Louis, MO, Code 3 is a brand of ECCO Safety Group (ESG). ESG is a global leader in safety solutions and emergency systems.

Request more info from Code 3, Inc.
Thank You!