PRESS RELEASE
Larson Electronics Releases 25' Telescoping Light Tower W/ 7.5kW Generator, 43 Gallon Tank
---
KEMP, Texas - Larson Electronics, a Texas-based company with over 40 years of experience spearheading the industrial lighting and equipment sectors, announced the release of a telescoping lighting package powered by a water-cooled diesel engine. This unit comes with a 7.5kW generator and four 1,000-watt metal halide lamps that produce a total of 440,000 lumens of light. This unit is capable of illuminating a 6- to 7-acre area.
The WCDE-4-MHL-43G telescoping mobile light tower comes with a 43-gallon fuel tank with a runtime of 80+ hours. The tower can elevate four metal halide lamps up to 25 feet with the use of a manual self-braking winch. The light tower can rotate lights 360 degrees and can withstand winds up to 50 mph when extended to its full height.
Larson Electronics' telescoping light tower package comes with a water-cooled Kubota diesel engine that operates at 3600 rpm. This 7,500-watt generator features a single bearing design and produces 120-240V current at 60Hz. This unit's operating system is a centrally located panel inside the light tower enclosure and features four circuit breaker protected switches allowing for individual control of the lights.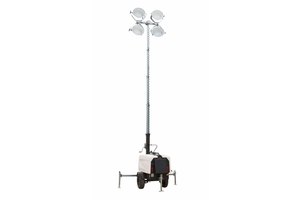 This system also comes with an alternator warning light, fuel primer system, preheating switch and a 120V GFCI duplex receptacle for auxiliary power takeoff. The operating components are housed in a 14-gauge steel compartment designed to provide airflow for cooling. The light package is mounted to a two-wheel trainer for easy mobility. Suitable applications include outdoor operations, concerts, checkpoints, security, law enforcement and more.
About Larson Electronics LLC: 
Larson Electronics LLC is a manufacturer of industrial lighting equipment and accessories. The company offers an extensive catalog of industry-grade lighting and power distribution products for the following sectors: manufacturing, construction, food processing, oil and gas, military, marine and automobile. Customers can benefit from the company's hands-on, customized approach to lighting solutions. Larson Electronics provides expedited service for quotes, customer support and shipments.