How to avoid fentanyl exposure in 3 common scenarios
Protect yourself with common-sense precautions, portable detection tools and a little know-how
---
Sponsored by Smiths Detection
By Joshua Lee for Police1 BrandFocus
Fentanyl remains the most significant synthetic opioid threat in the country, according to a 2018 unclassified DEA brief. Fentanyl is one of the most addictive drugs available, and one of the most dangerous and most deadly.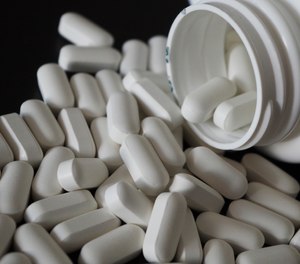 The CDC estimated that 72,287 people died from overdoses in 2017, a significant increase from the previous year. Unfortunately, the CDC, DOJ and other federal departments are estimating that 2019-2020 numbers will likely follow that trend.
Fentanyl is a chameleon that comes in all shapes and sizes, from pills to liquid to powder. It can be used by itself, used as a cutting agent for another drug, disguised as prescription pills or used as a coating or lacing agent. This makes it hard to identify and a particular challenge to officer safety.
Powdered forms of fentanyl pose a special threat to law enforcement officers and our K-9 friends. Powdered fentanyl can quickly become airborne, causing respiratory depression or other life-threatening conditions. Most of the documented officer and K-9-related exposures were caused by inhalation, not by touch.
Police officers, detectives and K-9 handlers should take extra measures to protect themselves when dealing with fentanyl during traffic stops, arrests and drug-related search warrants. Luckily, with a little common sense, portable drug detection and identification tools and a little know-how, protecting yourself is easy.
Traffic Stops 
Traffic stops pose the highest risk of exposure. Most police officers rely on information provided by the vehicle's occupants to determine the level of risk. This information is often false, misleading or understated. Trace amounts of fentanyl can easily be embedded in the fabric and plastics of vehicles, and the particles bind to bags, clothing or trash.
Improvements in portable detection technology provide a safer way to search a car that gets you the information you need while minimizing the risk of exposure. With a tool like the Smiths Detection IONSCAN 600, an officer can swab door handles, the trunk lid or compartments within the vehicle to check for drug residue. Instead of searching the vehicle and potentially encountering dangerous drugs, simply run the swab through the IONSCAN 600, which can detect the presence of trace amounts of drugs or explosives in less than 12 seconds.
Arrests 
Most officers use latex or nitrile single-use gloves during a search incident to arrest someone – if you don't, you should start now. Disposable gloves are your first barrier against accidental exposure to drugs or diseases.
In the pre-fentanyl days, officers used to open drug baggies, take a small sample to test, then reseal the baggie to place it into evidence without preoccupation. However, fentanyl is often used as a cutting agent for heroin and cocaine or pressed into fake prescription pills. Opening a baggie of suspected drugs is now too risky. Remember, this drug is 50 times stronger than heroin.
A much safer approach to testing small amounts of drugs is to use a handheld, portable scanner that can identify drugs through the plastic bag or package. Not opening the container means no opportunity for those potentially hazardous particles to escape, which protects the officer as well as bystanders.
The Smiths Detection ACE-ID provides an alternative to the outdated, color-liquid field tests of the past. The ACE-ID identifies drugs in solid, liquids, gel and powder form in less than 20 seconds and can scan through plastic bags and bottles, eliminating unnecessary exposure to whatever's inside.
Search Warrants 
Search warrants pose similar risks, although ideally officers have  a little more time to prepare. It's important to gather adequate information while prepping for a residential search warrant: What are the type and amounts of drugs to be expected, and where are the specific locations of those drugs? The last thing you want to do is accidentally expose yourself to a cloud of drugs while flipping over a mattress, opening a drawer or forcing entry on a safe.
Like vehicle stops and arrests, you should always wear disposable gloves. Gloves are your first barrier against accidental drug exposure. You should also be sure to turn off all ceiling and oscillating fans to avoid disturbing any potential drug particles. If you have reason to suspect fentanyl or find unidentified substances during your search, turn off the air-conditioning/heating units and don an N95 dust mask.
I know that last bit of advice can be very tough for my LEO friends in Arizona, considering inside temperatures in the summer can quickly breach 100 degrees. But being a little uncomfortable is a lot better than being dead!
The same protective strategies apply here, should you discover an unknown substance you suspect to be drugs while executing a warrant. Portable tools like the IONSCAN 600 and ACE-ID can help you identify the evidence without disturbing or destroying the sample. Best of all, the returns are admissible in court.
Take Precautions 
Minimize your potential exposure. Always wear personal protective equipment, including latex or nitrile gloves and dust masks, and if your agency carries naloxone (Narcan), throw one in your pocket or search warrant kit just in case. Also, be sure to to dispose of your gloves and dust masks carefully, avoiding contact with any potential residue – and don't leave them in your car.
Police officers have to be careful when dealing with all drugs, not just fentanyl. What looks like one thing could be something completely different. But thanks to portable drug detection technology, the tools are available to test and identify drugs safely and effectively in the field.

Request information from Smiths Detection
Thank You!