SHOT Show 2012: New flash hiders and muzzle brakes from Daniel Defense
---
As soon as I walked up to the Daniel Defense both at SHOT Show 2012, I noticed that the flash hider adorning the front of their carbines was not the standard A2 bird cage of the past. On closer inspection, I discovered a suppressor indexing notch on the underside of this new flash hider.
This got me very intrigued.
Speaking with one of the Daniel Defense employees manning the booth, I asked to hear the story. He explained to me that that the new Flash Suppressor — along with a new Muzzle Climb Mitigator and a Superior Suppression Device — are all designed to work with Knights Armament Corporation's M16/M4 suppressor that is in current U.S. military inventories.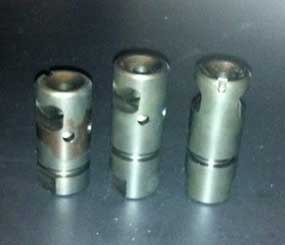 Competitive Pricing
Each is designed to provide the end user with a specific unit to fit their needs. All three designs are available for the .223/5.56 and the 6.8mm SPC/.300 AAC / 7.62mm calibers. Each design is available in an extended version that when permanently-mounted to a 14.5 inch barrel, will make the overall length 16 inches.
Pricing for these products ranges from $59 to $69. This is considerably less than comparable products from Knights and Surefire.
It appears to me that after winning part of the U.S. Military RAS rail contract, Daniel Defense is positioning themselves to have a larger footprint in the U.S. Military small arms market.
Having earned an outstanding reputation for form, function, quality and reliability Daniel Defense is a company to get to know.