There's no room for your optics to have a bad day
Trijicon's illuminated reticles provide a brilliant aiming point in any lighting situation, day or night
---
Sponsored by Trijicon
 
By Warren Wilson for Police1 BrandFocus
It is not acceptable for a cop's gear to have a bad day. The stakes are just too high. There is a reason Trijicon is so trusted among consumers who can't afford to worry about equipment failures. Trijicon overbuilds all of their products to withstand military MIL-STD-810G testing standards. For the uninitiated, this means that Trijicon subjects their riflescopes to extreme temperature testing from -20°F to 140°F, drop testing, and confirming that every riflescope model holds its zero even after 5,000 consecutive rounds. That is just a part of what Trijicon calls, "The Science of Brilliant."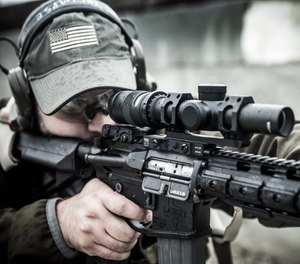 Trijicon is currently focusing on their low-power variable optics for law enforcement. That's a good thing for two reasons:
Trijicon has a heritage of building top shelf combat riflescopes. You may have heard of the Advanced Combat Optical Gunsight (ACOG). It set the standard for ruggedness in the hands of the armed forces overseas in the 90s and the U.S. Marine Corps in the early 2000s.
Low-power variable optic (LPVO) is the future of police optics. That may seem to be a bold statement, but I'm thoroughly convinced that's the case. There was a time not that long ago when I was confused when I saw an LPVO on a SWAT entry team rifle instead of a red dot. The more I learned about LPVO, the more it made sense. A quality LPVO is just as quick to index on target as a red dot and still allows magnified distance shooting.                    
Shooting drills with a LPVO
The prototypical LVPO is a 1-4x or 1-6x power scope with a straight 24mm objective lens which means generous field-of-view for situational awareness at low magnification. The scope is kept at 1x power until more magnification is needed. At that true 1x power setting, you have what is essentially a high-quality red dot sight. When more power is called for, just dial it up with the magnification "throw" lever. I had my doubts about the system until I took the plunge and started shooting drills with mine. After that, there was no denying the LPVO's versatility for cop work.
Illumination is a must
Illuminated optics are a must for law enforcement. We do much of our most important work during the hours of low- or no- light. In fact, we often seek darkness in an effort to hide our approach to a potentially dangerous location. Illuminated reticles provide quick target acquisition. That's one less task the eyes have to perform during the critical target identification process. Trijicon is unique in that it offers two different types of illuminated scopes represented in their AccuPoint and Credo families.
Testing battery-free, fiber optic illumination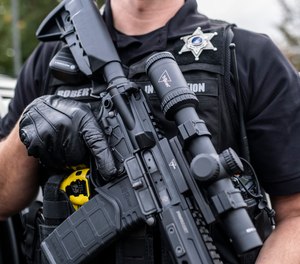 The AccuPoint family is battery-free illumination provided by fiber optic and tritium. This is the same technology used in their venerable ACOG. Fiber optic illumination is accomplished by ambient light, and as the light fades or in complete darkness, a tritium capsule illuminates the central aiming point. To my knowledge, there is no other company which has combined these two technologies into a single optic.
There has been some concern about fiber optic sights for defensive purposes. In darkness, a powerful light can wash out the illumination of the reticle on some models. That said, it doesn't matter because that same light, illuminates the reticle. Trijicon sent me a TR24G 1-4x24 to evaluate, so I put this concern to the test both inside and outdoors with the scope and a 1000 lumen light mounted to a really old AR from the back of the safe. There was no situation where I did not have a crisp, easily acquired aiming solution. The next morning, I zeroed the rifle at 50 yards and did some live-fire testing. The scope performed equally well on paper at seven yards as it did on steel 2/3 IPSC targets out to 100 yards. The throw lever is stiff enough to maintain the prescribed magnification but large enough for quick and easy zooming.
LED illumination holds up
Trijicon also offers LED illumination powered by a CR2032 battery in the Credo line of scopes. The tactical riflescopes in the Credo family are available in a variety of red or green reticles with 10 levels of illumination intensity to fit any lighting conditions. Trijicon sent me a Credo 1-6x24 to evaluate. One feature found lacking in many lower quality scopes of this type is an 'off' setting between brightness settings. For example, I like my illuminated optics at a brightness setting of about '7'. With the Credo, there's no need to twist the activation knob all the way from zero to get to the preferred setting. There is an 'off' between the '6' and '7' and the illuminated reticle is always just one forward click away from activation at my preferred brightness.
Binocular vision with the Bindon Aiming Concept
Trijicon's founder, former aeronautical engineer Glyn Bindon, is credited with popularizing the concept of shooting scoped rifles with both eyes open. Binocular vision is advantageous in that it allows for more situational awareness. Simply put, closing the non-dominant eye to focus on "the tube" kills 50% of our primary and peripheral vision, which means we lose half of our visual situational awareness. That is not good practice. Keeping both eyes open is imperative to law enforcement officers during critical events. Often referred to as the Bindon Aiming Concept (BAC), the principle is that the with both eyes open, the shooter's eyes will merge the two images into a single perceived image. The key to a success with a BAC sight picture is a crisp, clean optic and a bright, easily perceptible reticle. Since I began using this technique, the inferiority of some optics has become much more obvious.
The Science of Brilliant
Trijicon has strictly and consistently held to three principles in all their endeavors: innovation, durability and craftsmanship. That may sound like a marketing gimmick but, having dealt with a few of these folks and their products for a while, I can tell you it is not. That is just how they operate. If you or your department are shopping for low-powered variable optics for your patrol rifles, you should be looking hard at the Trijicon AccuPoint and Credo families of scopes.     
Visit Trijicon for more information.
Read next: 5 things you should know before buying an optic to carry on duty
About the author
Warren Wilson is a lieutenant with the Enid Police Department in Oklahoma. He is a former SWAT team leader, current firearms instructor and writer. He has been a full-time law enforcement officer since 1996.

Request information from Trijicon
Thank You!