PRESS RELEASE
Trijicon introduces the new RCR ruggedized closed reflex – a sealed pistol red dot with the RMR footprint
---
WIXOM, Mich. — Trijicon, Inc., the global provider of innovative aiming solutions to the military, law enforcement, and personal-defense minded individuals, is proud to introduce the new Trijicon RCR™ or Ruggedized Closed Reflex. An extremely durable closed emitter optic, the RCR meets the demanding standards for military and law enforcement applications where a compact sealed emitter optic is needed.
Based on the award-winning, industry-standard Trijicon Ruggedized Miniature Reflex (RMR®), the RCR is waterproof to 66 ft., and able to achieve unprecedented levels of mechanical and electronic robustness. Built with 7075-T6 aluminum using the RMR patented shape, the RCR absorbs recoil and other impacts and diverts stresses away from the lenses.
Beyond the shape, the RCR also shares the RMR's footprint. Employing Trijicon's new, innovative capstan screw design, the RCR mounts directly on any slide or plate that currently accepts an RMR. The capstan screw system is easy to use, and testing has proven it to be incredibly robust, while also preventing over-torquing, cross threading, and stripping out of the screw head. The RCR is also the same deck height as the RMR, allowing for use with RMR-compatible iron sights.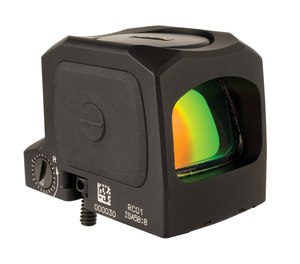 Brightness settings are adjusted manually, with 10 brightness settings to choose from, including three night vision options and one super bright option. The LED illumination is powered by one CR2032 battery. The battery easily top-loads into the unit without the need to remove the RCR from the firearm and re-confirm zero after a battery change. Not that a user will need to change batteries very often. A single CR2032 battery will provide an amazing 6 years of continuous use at brightness setting 5 of 10 at 70°F.
A true-color, multi-coated lens provides wide-band light transmission to ensure minimal change in target area color. The 3.25 MOA red dot is easily adjustable for elevation and windage and no special tools are needed. Adjustments are at 1 MOA per click, with a total of 150 MOA travel possible.
The RCR includes upgraded electronics featuring ruggedized battery contacts and electronics to ensure performance and survivability in harsh environments. Adjustment buttons are distinctive and easy-to-use.
The Made-in-USA RCR is ready for immediate adoption by any user who needs the durability and footprint of the RMR in a miniature sealed emitter reflex optic.
For more information on the new Trijicon RCRTM and the complete array of Brilliant Aiming Solutions™ for the hunting, shooting, military, and law enforcement markets, visit Trijicon.com. 
The Science of Brilliant®
At Trijicon, we are bound by a commitment to industry-leading research, design, and testing to seek innovative aiming solutions that constantly redefine "brilliant." That's why Trijicon products are subjected to the below testing methods.
About Trijicon, Inc.
Trijicon, Inc. has led the industry in the development of superior any-light aiming systems since the company's founding in 1981. Incorporating four decades of innovation, Trijicon's riflescopes and sights are the most advanced aiming systems available today. For more information on the company's complete array of Brilliant Aiming Solutions™ for tactical and sporting applications, visit Trijicon.com or call (248) 960-7700. Follow @Trijicon on Facebook, Twitter, Instagram and YouTube.

Request more info from Trijicon
Thank You!