4 key considerations for setting up a firearms simulator program
Today's firearms simulator training tools are cost effective and can be easily integrated into commonly delivered police training
---
This feature is part of our new PoliceOne Digital Edition, a quarterly supplement to PoliceOne.com that brings a sharpened focus to some of the most challenging topics facing police chiefs and police officers everywhere. To read all of the articles included in the Fall 2016 issue, click here.
By Ken Hardesty, Police1 Columnist
With recent added emphasis on the quality, duration and frequency of law enforcement training, many agencies are looking inward to ascertain how to better prepare their officers for modern threats.
Force Options Simulators, when used properly, add the spice of reality to commonly conducted deadly and non-deadly use-of-force training. These life-saving, decision-making tools are easily integrated into commonly delivered training and extremely cost effective.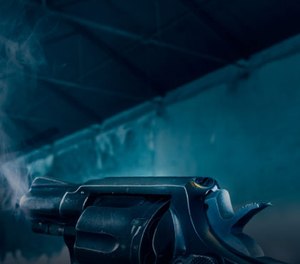 One of my favorite adages is, 'I never lose. I either win or learn.' Like all lessons, I learned a few the hard way as an agency lead Force Options Instructor.
Here are four considerations to keep in mind as you set up your program:
1. System integration
Trainers and students alike realize that these tools are not meant to replace hands-on, live-fire training. When combined with a range program, the syllabi complement each other. When possible, the instructors of each program should at a minimum collaborate, if not be one in the same. In a training system, contradictory information and methodology is quickly recognized by students, and valuable training is lost.
2. Reality-based training
Three years ago, due to a state contractual issue, my agency changed simulator vendors. The installation included one thousand pre-installed scenarios. Several of these, however, were filmed and produced in the Midwest. As an agency trainer in the Bay Area of California, it didn't make sense to place officers in scenarios that contained snow. The initial visual image projected to participants sets the stage for the remainder of the immersion training. No amount of verbalization or "stage setting" changes what an engaged student perceives or how they respond.
The ability to film and embed local scenario scenes is a tremendous boon to the use of the simulator. Absent this ability, generic is better.
3. Errors and omissions
Credible simulator programs include use-of-force case law discussions. Trainers must be fluent in the most commonly used court decisions, and project this confidence to students. A key component in officer injuries and mistakes is rooted in a lack of confidence. Simply stated, officers are not confident in what they may or may not do. Impressive trainers who infuse case knowledge in their students build confidence, which can reduce injuries and libelous situations.
4. End on a win
All training, regardless of method, should be completed with a debrief. Feedback in both directions, and a complete understanding of what occurred and why is imperative to the learning process.
Mistakes made in a training environment are not only acceptable, they are encouraged. This is the time we want students to make them, and learn from them. Belittling, or worse, infusing personal opinion to berate a student is destructive and contagious.
A quick debrief complete with a review of tactical considerations or applicable case law is extremely beneficial. Let them err, fix it, and run it again. Remember, students never lose, they either win or they learn.
Stay safe!
---
About the author
Ken Hardesty served seven years in the U.S. Marine Corps before deciding to pursue a career in law enforcement. He has served continuously for fourteen years in large California agencies. His assignments include Detention, Patrol, Field Training Officer, Specialist Officer, Academy Recruit Training Officer, Basic Academy Coordinator and In-Service Training Officer. Ken is California POST certified to teach Firearms, Defensive Tactics, Chemical Agents, First Aid/CPR and Patrol Response to Active Shooter. Additional certifications include, National Rifle Association Tactical Shooting Instructor, Surefire Low Light Instructor and PepperBall Instructor. He is a court-certified expert in Illegal Weapons, and serves as a subject matter expert for the State of California in the areas of Firearms and Chemical Agents. Ken teaches Incident Response to Terrorist Bombings for the Department of Homeland Security as well as Leadership and Firearms/Chemical Agents Program Evaluation for the California Commission on POST. Ken is Charter Member and on the Board of Advisors for NLEFIA. Ken enjoys spending time with family and is the proud father of two.

Request product info from top Police Firearms companies
Thank You!