Staccato CS: Compact-sized pistol delivers the same comfort, speed and accuracy as its bigger siblings
Compared to other compact pistols, the Staccato CS sets a standard for quality above and beyond the rest of the field
---
Staccato has become famous for its 2011s, an innovative double stack 1911. The company has single-handedly developed 2011s that are durable, reliable and ready to fill the holsters of law enforcement officers. As a matter of fact, the Staccato P is approved for duty by more than 1,200+ law enforcement agencies, including the Texas Rangers and the US Marshals Special Operations Group. The Staccato P continues to exceed standards in law enforcement department evaluations.
There are several reasons why officers love the Staccato line of made-in-the-USA duty pistols. The ergonomics of the pistol grip result in a natural presentation of the pistol, and the controls are exactly where they should be for maximum effectiveness. When you combine that with a good single-action straight pull trigger, it makes it easy to stay focused on your target.
Staccato targeted SWAT drop-holsters, took aim at the duty holsters of uniformed police officers, and now are eyeing up the plain clothes and off-duty marketplace. If you work in a plain clothes assignment, or if you just want a nice off-duty carry pistol, the newest member of the Staccato family has arrived. The Staccato CS is a compact-sized pistol that delivers the same comfort, speed and accuracy as its bigger siblings.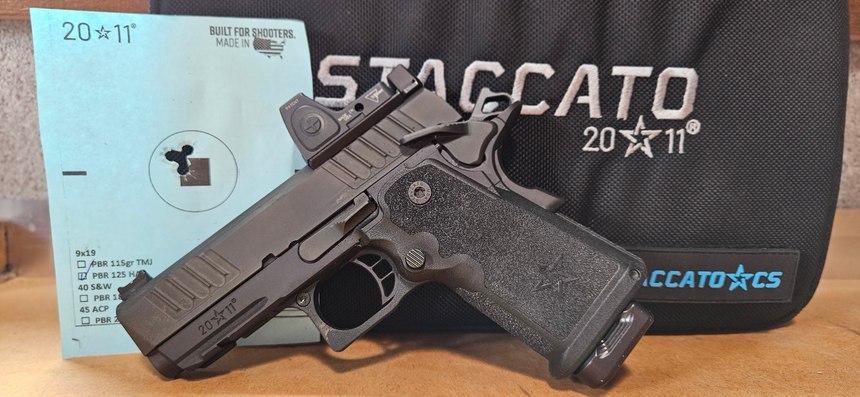 Incredibly shootable while still very concealable
The Staccato CS is the smallest, lightest and most concealable addition to the Staccato pistol lineup. Weighing in at just under 23 ounces, the Staccato CS is ideal for plain clothes duty or concealed carry. The smaller size and light weight hide the duty size load out of the newly designed magazine. With a full load of 16+1, it provides terrific balance to a pistol that's incredibly shootable while still very concealable.
A secure grip
The Staccato CS debuts a new grip that's narrower than other Staccatos with a new grip texture that stays firmly planted in your hand despite the diminutive weight and size. The new grip of this compact pistol fits a wide range of hand sizes while accommodating a duty magazine load. As far as the grip texture, it does a terrific job walking the tightrope between being aggressive enough to stay firmly planted in your hand, and gentle enough to carry inside the waistband. The grip texture is well placed along the side panels, front strap and back strap of the frame ensuring the Staccato CS remains secure in your hands.
Beauty and strength
Not only is the Staccato CS a beautiful pistol, but it's also incredibly strong. The frame is made of 7075 billet aluminum keeping it lightweight and tough. The solid steel slide and 3.5" bull barrel lock up solidly. There's nearly no discernable side-to-side play in the slide to frame fit. Compared to other compact pistols, the Staccato CS sets a standard for quality above and beyond the rest of the field. The fit and finish of this pistol are significantly tighter than the rest of the duty-capable compact pistol market.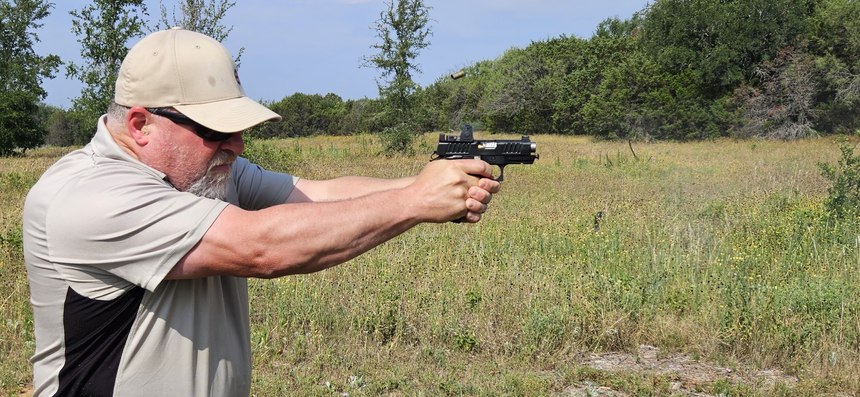 Testing the Staccato CS
When I received the Staccato CS used for this review, I was preparing to travel and teach at the beautiful Deschutes County Sheriff's Office range in central Oregon. The Staccato CS arrived with a Trijicon RMR mounted on top, along with a Blackpoint Tactical outside-the-waistband holster. I didn't get a chance to confirm the zero before leaving, so the first thing I did when I arrived at the range was to check the zero. After making a few small changes, the Staccato CS was shooting 5-yard one-hole drills with ease. The ergonomics of the pistol, along with the straight pull 4.5lb single-action trigger, made this easily repeatable. The Staccato CS tested had a curved aluminum trigger, but a straight trigger is also available.
Unfortunately for me, once I told students the Staccato CS was fair game if they wanted to shoot it, I never did get another chance to run the gun. However, the first class on the schedule was a Pistol Mounted Optics Instructor Course that saw approximately 900 rounds put through it in three days. It performed without a hiccup. Two different students took custody of the Staccato CS and were very reluctant to give it up. Both students posted good times on some extremely challenging drills, even when they were running a Staccato pistol for the first time. Granted, both were very good shooters before they picked up the Staccato CS, so they had a solid operating program and quality software installed beforehand. But the improved hardware of the Staccato CS provided an overall system upgrade.
During the second week, we presented a Handgun Instructor Certification Course. This class had an odd number of students, so one of our instructors "filled in" as a student to help. In addition to getting to shoot a lot, he insisted on running the Staccato CS during the week and put another 800-900 rounds through it. Despite being a lefthanded shooter working out of a righthanded holster, he persevered and put the Staccato CS to the test. Again, not a single hiccup.
When I got home from class, I ran a couple hundred rounds through the Staccato CS bringing the round count up to around 2,000 rounds in less than a month. No maintenance was done other than to ensure it was lubricated appropriately. Again, the Staccato CS was ready for duty and didn't blink even when it was so hot I could hardly stand to touch it with my bare support hand. Throughout this evaluation, a wide variety of ammunition was run through it. From 115-147 grain, FMJ-JHP, standard pressure and +P, and even when mixed randomly, the Staccato CS fed it all without fail.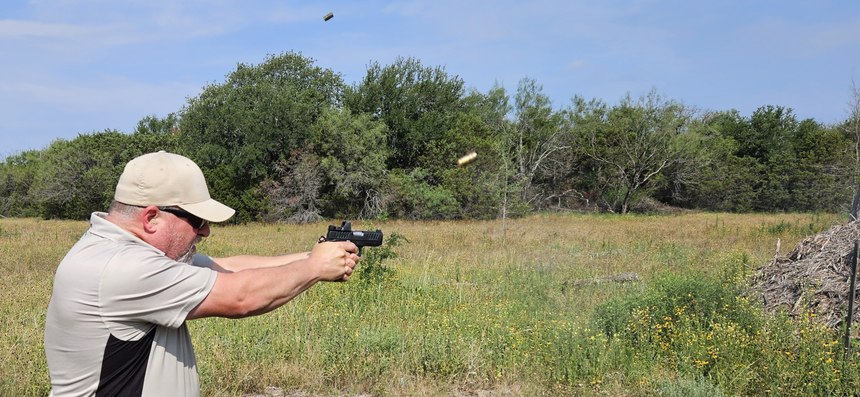 Times and scores similar to my duty pistols
I ran some of our standard class drills, and I found the Staccato CS held its own with times and scores similar to my duty pistols. Given the Staccato CS is a compact pistol instead of a standard duty-sized pistol, this was an impressive showing. The new grip size combined with the grip texture does an excellent job of staying planted in my hands and minimizing movement during recoil. Even with full powered duty ammo in the Texas heat, the Staccato CS stayed firmly rooted in my hands providing an exceptionally shootable and controllable compact pistol.
Built optic-ready out of the box, the Staccato CS is more than a powerful addition to the family. The little sibling of the Staccato family is a capable and convenient plain clothes and everyday carry solution. After testing the Staccato CS, I can see how getting ready for work could include grabbing your keys, phone, wallet, handcuffs, spare magazine and your Staccato CS. I would feel infinitely armed and ready carrying the Staccato CS in a holster at work.
If you're interested in putting your paws on a Staccato CS, or any member of the Staccato family, they have two programs available to make it more affordable. Veterans, first responders, military professionals, and non-active-duty law enforcement personnel are eligible for a 10% discount. Active-duty law enforcement are eligible for a 15% discount when purchased online at www.Staccato2011.com.
Yes, Staccato pistols are more expensive than the rest of the herd, but performance has a price. Until you shoot a Staccato, you don't know how to compare it to the mass-produced duty pistols on the market. Once you do, there may be no looking back.

Request information from Staccato
Thank You!