One year's journey: A veteran's path from new owner to expansion
For one former LE veteran, owning a business was nothing more than a pipe dream; here's how Signal 88 Security made it a reality for Roger Estrada
---
Content provided by Signal 88 Security
Roger Estrada's path to business ownership began 28 years ago. As a military veteran of 16 years, he made the logical transition into law enforcement, where he served an additional 12 years as a law enforcement officer.
Owning a business was always a long-term goal, but it wasn't until contacting Signal 88 Security that he realized he had the tools and experience needed to run a successful business enterprise.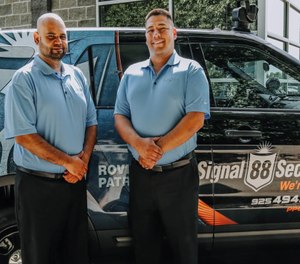 "I always had the ability to motivate and influence others," says Estrada.
Roger had a strong background in operations, but it was a different trait that set him up for success. Leading by example, as it turns out, was the most essential part of starting a business, but more importantly, getting people who wanted to work for the business.
Taking the leap into business ownership is scary for most, and Roger is no different. When asked what his biggest fear was in starting his own franchise his answer is typical of any new business owner.
"Failure. Am I going to lose every dime I have? Every last dollar I have has been put into this business. Do I have enough time to make it successful?" Clearly, the time spent and money invested have both paid off.
Dedication pays off
Like any start up, the personal sacrifice was intense during the company's infancy. Roger was running his own patrol routes overnight, then sales prospecting during the day. Nothing came as a surprise to him. Roger knew he had the tools to build his business and relied on his past experiences in the military to do so. "Hard work and sacrifice. Failure has never been an option. I had to sacrifice a lot."
Additionally, the knowledge gained from his years as a law enforcement officer further solidified to him that he possessed the traits needed to expand his business.
"I know security. It's in my background," he states confidently.
Many other Signal 88 franchise owners have similar backgrounds to that of Roger's. Nearly 85% of our ownership network consists of veterans of military and law enforcement service. Hard work and dedication is nothing new. It's in their blood.
The future is bright
Fast-forward 12 months later and Roger's business is soaring. He's used his ability to influence to build a network of strong employees ranging from part time officer, all the way up to having a go-to Operations Manager, Anna.
Roger's biggest fear of not having enough time to grow the business has been quickly overcome as he's implemented strong systems to ensure a smooth operation as the enterprise continues to expand.
"I had the help of a lot of people. Roger first founded Signal 88 Security of Contra Costa, Calif. in 2018, and with recent expansion into Sacramento, his business size has grown exponentially. Just a year and a half into owning his business, Roger's revenue is already becoming one of the largest in the Signal 88 network.
When asked what advice he would give to someone nervous about starting their own business his response was poignant, "Be passionate. If you aren't passionate about this, or are unsure if this is what you want to do, do yourself a favor and don't do it."
Roger's passion and dedication embodies the core values of Signal 88 Security, and we couldn't be more proud of his success so far.
Unmatched support
"I had to rely on the Franchise Group for a lot of support, but they put the systems in place to allow me the time to grow my business properly. They put a ton of trust in me as well." And that trust has been repaid.
Signal 88 Security prides itself on providing unmatched support to its franchisees, making failure virtually impossible. With our proprietary 88Edge technology, managing your business and employees has never been easier.
We provide you with ongoing support from the first recruitment phone call, to your first sales proposal, hiring your first employee, and beyond. If starting your own business is in your future, make the leap to join our vast network of franchise owners. With Signal 88 Security, you are never alone in running your business.
About Signal 88 Security
The vision of Signal 88 Security, since its founding in 2003, is to provide a full suite of world-class and industry-leading security services for residential, commercial, retail and institutional customers because, quite simply, safety is a basic human right and need.

The promise of Signal 88 Security is to provide customized security services so that individuals, businesses, neighborhoods and communities can pursue their passions in life openly, freely and joyfully. Without the freedom of feeling secure, our passions cannot be fully enjoyed.
85% percent of Signal 88 Security's ownership network is comprised of military and law enforcement veterans who have become their own boss, and are living the future they dreamt of. Discover your opportunity by completing the form below.

Request information from Signal 88 Security
Thank You!