Generate actionable intelligence in as little as 90 minutes using rapid DNA testing
Discover 3 ways your department can get offenders off the street faster, identify perpetrators quickly and solve cross-jurisdictional crimes with this device
---
Sponsored by Thermo Fisher Scientific
By Courtney Levin, Police1 BrandFocus Staff
Nearly every case a department encounters, from property crime to violent offenses, involves the collection and testing of DNA evidence. The importance of this evidence has long been understood by everyone in law enforcement, but a lack of agency resources sometimes limits the ability of an officer to use DNA evidence promptly.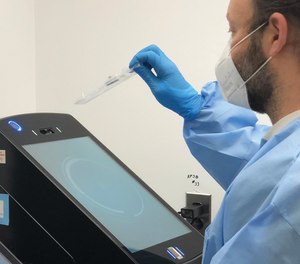 Smaller agencies may send their biological samples to private or state-run labs, waiting for their turn in the queue before their results can help identify investigative leads. Even larger departments with in-house labs may not have the capacity to provide testing results as quickly as one would like, potentially leading to a delay in identifying a perpetrator.
Helping to overcome this challenge is the RapidHIT ID system by Thermo Fisher Scientific. This one-step device provides departments with DNA results in about 90 minutes and is used to provide actionable intelligence to propel an investigation forward. Results obtained from the Rapid DNA system can also help  labs prioritize samples and act as a time-saving tool for resource-strapped agencies.
RAPID TESTING CAN LEAD TO INCREASED TRANSPARENCY
Processing DNA evidence at a faster rate does more than just free up agency resources, as rapid results can help to aid intelligence-led policing.
"When we think about modern policing, what are many of the things people challenge us to do better? They want to make sure that we have reasons for what we do," said Michael Garvey, director of forensic science at the Philadelphia Police Department. "They want to make sure that we're transparent. The police aren't just out there kicking in doors. They're truly investigating crime, trying to get to the truth to improve public safety."
Garvey's department, along with several other jurisdictions across the country, uses the RapidHIT ID system to enhance its investigative ability. By implementing this procedure early in the investigative process, law enforcement officers have experienced some of the following benefits.
INTEGRATING DNA INTO THE BOOKING PROCESS
While DNA testing probably already plays a role in your department's booking process, the results of such collections can take weeks to receive. Several states looking to change that, including Florida and Louisiana, have integrated new practices into their existing booking procedures by using the RapidHIT ID system.
Rather than waiting up to 30 days before being able to run a DNA sample against profiles in CODIS, officers can run a suspect's sample while the arrestee is still in the booking station. When they receive a CODIS hit, the offender is still in custody instead of back out on the street, potentially committing another crime.
Instead of aiming to change the mentality surrounding DNA collection, says Garvey, this system can change the perception of how useful DNA can be during the initial stages of an investigation. Rapid DNA testing helps to bring a timelier and more actionable attitude toward biological samples, especially when collected during the booking process.
IDENTIFYING TRUE PERPETRATORS
While the use of Rapid DNA testing can help agencies confirm a suspect's involvement in a crime while they are still in the booking station, this technology can also help to exonerate arrestees to make sure they don't automatically become defendants.
In Bensalem Township, located in Bucks County, Pennsylvania, law enforcement officers use the RapidHIT ID system as part of a comprehensive informed voluntary consent program to avoid incarcerating the wrong individual. Rather than potentially placing a suspect in jail under a cloud of suspicion before establishing a DNA match, they can find out in about 90 minutes if an individual was involved in a crime.
"Wherever we can, we try to use forensic science to drive criminal investigations forward," said Garvey. "If our focus is on investigative work, then we're able to exonerate people more quickly and sharpen our focus on actionable investigative leads."
This investigative view helps agencies identify perpetrators more quickly, as well as identify patterns of crime at a faster rate, says Garvey. He adds that if an agency can do that, they are solving crime as well as they are preventing crime.
ADDRESSING CROSS-JURISDICTIONAL CRIMES
Perpetrators don't stay in one place, and it's not uncommon for an individual to commit multiple crimes in different counties. However, despite the use of extensive local DNA databases, many jurisdictions aren't always able to connect the DNA dots.
When the Philadelphia Police Department implemented the RapidHIT ID system, both the Montgomery County and Bucks County agencies partnered with them to expand their biological testing capabilities. These three agencies use the RapidHIT ID system as the backbone for their Delaware Valley Investigative DNA Database and can compare DNA samples across several regional systems. Moving forward, these agencies will know when a suspect committed a crime in one jurisdiction and then moved to another jurisdiction.
"They'll be able to link those immediately," said Ariana Wheaton, senior market development manager at Thermo Fisher Scientific. "They can get that guy off the street as fast as possible, which is the ultimate goal."
RAPID DNA TESTING BRINGS REAL RESULTS
With each Pennsylvania agency implementing the RapidHIT ID system, the connectivity gained from using the same tool across jurisdictions has led to an increase in actionable investigative data. For example, in 2015, Bucks County officers collected a biological sample from a car theft in one county and DNA evidence from a sexual assault the next day in a different county.
At the time, neither the RapidHIT ID system nor the shared DNA database had been implemented, and the two offenses were never linked. When the database went online 2,028 days later, officers were instantly alerted to a match between the crimes.
"DNA is a powerful tool. It is not the solution to all investigative needs, but it is one of the most powerful forensic tools that can aid an investigation to getting toward the truth," said Garvey. "And if we get toward the truth faster, then ultimately, that should put us closer to justice."
Visit Thermo Fisher Scientific for more information.
Read next: FBI approves Thermo Fisher Scientific's Rapid DNA Solution for National DNA Index System

Request information from Thermo Fisher Scientific- Human Identification
Thank You!