How to buy evidence management (eBook)
Evidence management is anything but straightforward these days, but no less critical; these products and procedures can help
---
To download your free copy of "How to buy evidence management (eBook)" Buying Guide from Police1, fill out this form.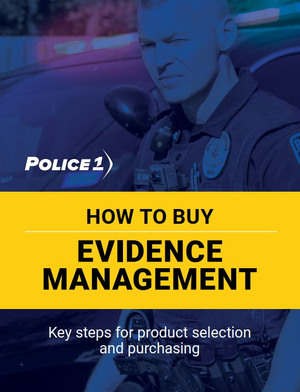 Every law enforcement agency, regardless of its size or focus, collects evidence in the execution of its mission. Larger agencies will collect a lot of evidence, but even the smallest department can find itself handling everything from a latent print lift on an index card to heavy construction equipment. And in this era of smartphones and mandatory bodycam legislation, it's increasingly likely that these agencies will find themselves dealing with a variety of digital evidence as well.
Evidence management is also a potential liability. Collecting evidence in a manner that maintains its integrity is essential, but so, too, is making sure that those items are indestructible and maintained within a strict chain of custody throughout the life of a case. While most departments are well versed in physical evidence maintenance, even the most well-resourced agencies have struggled with the evolving demands of digital evidence custodianship. And this has, unfortunately, put cases, and reputations, at risk.
This guide is designed to help agencies avoid such pitfalls. It covers the issues you should consider in planning the acquisition of evidence management facilities, materials and software as well as the procedures you implement to care for items in your custody.
Included in this guide: 
Key considerations before purchasing evidence management products and software
Questions to ask vendors
Evidence management company directory
To download your free copy of the "How to buy evidence management" Buying Guide from Police1, fill out this form.