4 things you're not doing with LPR that you should be
The Long Beach (Calif.) PD takes advantage of increased interoperability and data-sharing to expand its investigative reach with license plate recognition
---
The following is paid content sponsored by Vigilant Solutions.
By Police1 BrandFocus Staff
Advances in license plate recognition (LPR) technology, particularly the way data is stored and shared securely in the cloud, have made it easier than ever to use. The Long Beach (California) Police Department is building on these advances with the help of Vigilant Solutions to push its existing license plate recognition systems beyond locating vehicles to develop leads, catch criminals and reduce crime.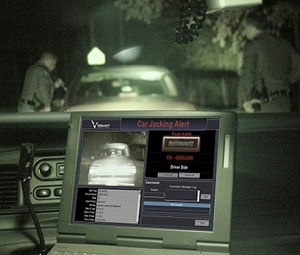 This article covers four of the improvements Long Beach PD has made by mixing and matching LPR technology solutions. Read on to find out what your department isn't doing with LPR that you could and probably should be.
1. Commercial data boosts existing LPR systems.
One simple element Long Beach has used to expand its LPR capability is commercially available LPR data. Vigilant Solutions collects more than 120 million detections each month through its network of LPR cars that canvass the country, and that data is available to law enforcement via the Law Enforcement Archival and Reporting Network, or LEARN. Even agencies without LPR cameras can tap into this LPR data to develop investigative leads.
"Theoretically, if Long Beach didn't have any LPR cameras, we could still look at LPR data that's been collected by this company," said Lt. Chris Morgan, who administers the LPR system for Long Beach PD. "By subscribing to this commercial data, we're upping the chances of being able to find what we're looking for."
Long Beach also uploads its local LPR data into the LEARN system to share with other LE agencies. This creates a much wider net, and improved data sharing helps investigators across the country find what they're looking for.
2. Cloud storage enables data sharing and interoperability.
Because the LEARN system is a cloud-based platform with the ability to connect to and integrate data from competitive systems, everyone is speaking the same language.  Its data-sharing capabilities have greatly simplified what was once a tedious and time-consuming process and enabled greater cooperation among agencies, says Morgan.
"I can just click a button on the application and I'm sharing," he said. "We used to be able to do this only by jumping through a million hoops. Now everything is done online."
This interoperability also means that agencies are free to mix and match to leverage their existing hardware, regardless of vendor.
"You're no longer stuck with one vendor just because you have their equipment," said Morgan. "You can still use the advanced LEARN analytics and online storage and other new facets of the technology with your existing equipment. You don't have to potentially reinvest hundreds of thousands of dollars in LPR cameras. You just repurpose what you already have."
3. Cloud storage makes management and retention easier.
Data storage is a growing concern. Cost is a major factor in how long agencies keep data, and a cloud-based solution enables offsite storage, eliminating the need for expensive servers and reducing demands on IT staff.
Long Beach PD uses the Vigilant cloud solution to expand its storage capacity and streamline data management. Data is collected from LBPD's cameras, downloaded to an internal server and then uploaded to LEARN, where the retention period is set by the agency. The in-house server is then purged to make room for incoming data, and the existing data is stored in the cloud for two years, as Long Beach policy requires.
"I'm able to free up space and cut our costs for storage," said Morgan, "and I no longer have to count on limited city resources to maintain the servers."
4. Analytical tools improve investigations.
Easier sharing, storage and management are key benefits, but fighting crime is the real purpose of this technology. Using the analytic capabilities of LPR to look for patterns to solve crimes is where the real value lies, says Morgan.
"Finding the stolen car on the street is great, but that's the gravy," Morgan said. "The meat and potatoes of this technology is identifying suspect vehicles, placing suspects or witnesses at the scene of an incident and using historical data to go back in time to identify who your players are."
By looking through historical data and using Vigilant's analytics to establish patterns, Long Beach PD has been able to identify new leads and close cases. For example, a detective investigating three crimes at three locations can search LEARN for vehicles in common to identify possible suspects.
Previously, the detectives were unable to easily correlate the information from one crime scene with data from another, says Morgan, but now they can co-locate multiple vehicles and establish patterns. This helps them solve more crimes faster.
One such success was a homicide investigation that began with a body found wrapped in a carpet in an alley. Detectives identified the victim and a possible suspect, then identified all the vehicles the suspect might be related to and then fed that information into the LPR system. The system had a picture of one of those vehicles at the scene of the crime and tied three suspects to the crime. All were convicted and are now serving life sentences.
Further, the case demonstrates the need to retain data.
"We had no idea that that vehicle was involved in a crime at the time, and we didn't know until months and months later, so if we had just deleted that information, we never would have had it," he said. "The detectives may have been able to work the case and been able to identify the suspects, but they wouldn't have had that proof that the actual vehicle was there at the time of the crime."
By adding Vigilant Solutions' LEARN platform to its existing hardware, Long Beach PD has expanded its investigative reach with easier data-sharing, storage and analysis. How can these improvements help your agency fight crime more effectively?
For more details on license plate recognition and analytics, contact Vigilant Solutions.

Request information from Motorola Solutions
Thank You!