PRESS RELEASE
New Bear Spray Holster for Bikes Helps Cyclists Explore Bear Country with Confidence
---
SABRE's Frontiersman brand expands its line of bear safety products
Frontiersman - the industry's leader in bear spray - is introducing the Bike Holster for Bear Spray, a product tailored to those cycling in bear country. The holster fits all standard bicycle water bottle cages and is compatible with all Frontiersman bear spray canisters. Lightweight yet durable, the 1.75 oz holster is made out of Polyethylene and protects the bear spray within from damage and/or puncture.
"We know that bear spray holsters can be cumbersome for cyclists. That's why we developed a more user-friendly product that helps them keep their bear spray on hand while biking," said David Nance, SABRE CEO. "We also know that cyclists in bear country will appreciate the holster's easy assembly."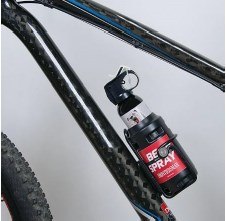 The Bike Holster for Bear Spray is Frontiersman's most recent addition to its comprehensive line of bear safety products, which also includes bear bells, bear spray holsters and a bear-resistant food container.
To see this product in action, check out this brand new video, filmed in the Colorado Rockies by AIM Studios, a division of Backpacker Magazine. The holster is now available for $18.99 on www.sabrered.com/bear-spray. If you're a retailer interested in selling this product, contact info@sabrered.com.

About SABRE
SABRE, the #1 pepper spray trusted by police and consumers worldwide, is family owned and operated with four decades of experience and is the leading brand in personal safety. The company's law enforcement grade pepper sprays provide consumers with the same superior quality chosen exclusively by the New York Police Department, Los Angeles County Sheriff's Department and law enforcement agencies worldwide. SABRE has trained 3,500 officers around the globe on the use of force and how to use pepper spray. SABRE also has a line of consumer personal alarms and home security systems, and is dedicated to educating its customers. SABRE's Personal Safety Academy is available through certified instructors around the world to help teach personal safety skills. Learn more at www.sabrered.com, on Facebook at 'SABRE-Security Equipment Corporation', on Twitter @SabreRed or on Instagram @SabreSafety.

Request more info from SABRE-Security Equipment Corp.
Thank You!