PRESS RELEASE
New User Pepper Spray Kit Provides Confidence for First Time Users
---
SABRE product means new users can train, practice and prepare
A new product from SABRE - the #1 pepper spray trusted by police and consumers worldwide - offers users a chance become comfortable with pepper spray before being confronted by a dangerous person. The compact, affordable New User Kit includes training instructions as well as a practice canister and pepper spray canister. This combination of products helps users fully maximize their safety and learn about the most effective way to use the product.
"June is National Safety Month, and we know that being safe starts with being prepared. That's why we want to give SABRE users the best opportunity to protect themselves to their fullest potential. Being prepared and familiar with the product will significantly help users when facing a threat," said David Nance, CEO of SABRE.>
The pepper spray comes in a key ring model with 25 bursts, five times the competition, and a 10-foot range. The police-strength spray is backed by SABRE's exclusive in-house lab that guarantees industry-leading heat levels. The ballistic stream pattern reduces wind blow-back while the safety prevents accidental discharge. The spray includes a Quick Release Key Ring, allowing users to immediately access their spray when keys are in ignition or lock, and is available in four colors. SABRE is excited that users can now become comfortable with all of these features before needing the spray in a real-life setting. The kit has the potential to dispel fears about carrying pepper spray and appeal to a wider audience in need of self-defense.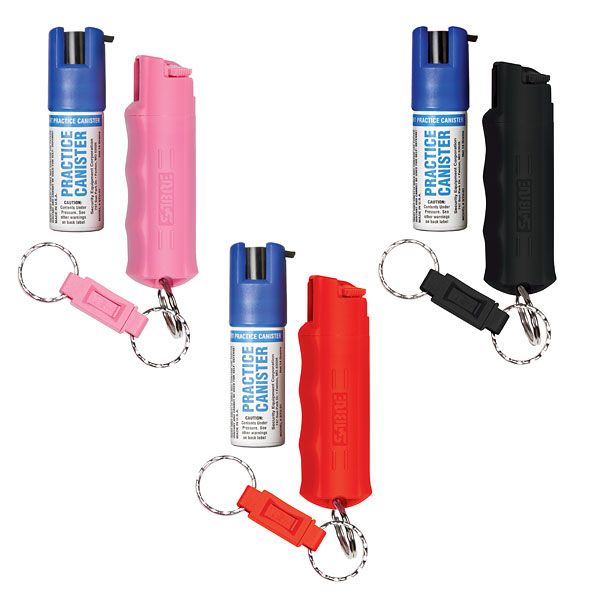 The New User Kit has a retail price of $14.99 and is available online and in stores today.
Request more information
. SABRE has also been
sharing tips for National Safety Month
. Safety is a state of mind, and
this video shows how important a safety mindset is
. The New User Kit can help consumers achieve just that!
About SABRE
SABRE, the #1 pepper spray trusted by police and consumers worldwide, is family owned and operated with four decades of experience and is the leading brand in personal safety. The company's law enforcement grade pepper sprays provide consumers with the same superior quality chosen exclusively by the New York Police Department, Los Angeles County Sheriff's Department and law enforcement agencies worldwide. SABRE has trained 3,500 officers around the globe on the use of force and how to use pepper spray. SABRE also has a line of consumer personal alarms and home security systems, and is dedicated to educating its customers. SABRE's Personal Safety Academy is available through certified instructors around the world to help teach personal safety skills to SABRE users. Learn more at www.sabrered.com, on Facebook at 'SABRE-Security Equipment Corporation', on Twitter @SabreRed or on Instagram @SabreSafety.

Request more info from SABRE-Security Equipment Corp.
Thank You!