PRESS RELEASE
Skydio Enterprise drones now available through Adorama
---
Adorama Drones proudly expands its offerings for enterprise & public safety organizations with Skydio's autonomous drones
NEW YORK – Adorama Drones, the trusted source for comprehensive drone solutions for businesses and organizations, today announced it has signed on as a channel partner with Skydio, the leading U.S. drone manufacturer and world leader in autonomous flight. With this partnership, Skydio's drone solutions are available for purchase through Adorama, including the Skydio X2E and Skydio 2+ for Enterprise.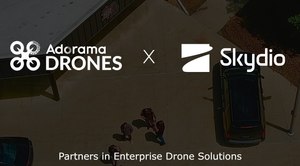 Skydio drones are designed, assembled, and supported in the United States, providing the highest level of supply chain security. The Skydio X2E, optimized for enterprises, first responders, and civilian agencies, is the ideal solution for situational awareness and inspection of infrastructure such as buildings, bridges, power plants, power stations and railyards. Skydio's autonomous navigation technology makes it safe to fly at close distances, capturing more accurate data than traditional manual drones.
"We're thrilled to onboard Skydio's enterprise systems and offer Adorama's customers these innovative platforms that allow organizations to master their mission," said James Bushey, Director of Technical Services at Adorama Drones. "Skydio systems are reliable and comprehensive, helping organizations improve their workflow and operations while saving money, time, and increasing safety."
The Skydio X2 pairs breakthrough autonomy software with a ruggedized, portable airframe with folding arms for easy transportation, a thermal camera, and up to 35 minutes of flight time. X2 is equipped with six 4k navigation cameras for 360-degree obstacle avoidance and a dual sensor payload that includes 12MP color and 320x256 LWIR sensors. Designed, assembled, and supported in the USA, X2 turns anyone into an expert pilot and helps get the job done safer and faster. With Adorama an authorized Skydio dealer, local, state and federal agencies as well as private sector companies within the energy, construction, and utility markets have access to even more enterprise drone options.
For more information and to contact Adorama Drones, please visit https://www.adorama.com/g/EnterpriseDrones.
About Adorama Drones
Drones are changing how we view and interact with the world. Adorama Drones is leading the way with a complete ecosystem of unique cutting-edge professional solutions.  Adorama's team of in-house experts will curate the optimal hardware and software for your application. Take to the air with training, insurance, repairs, and expert on-demand support for any size drone program.
About Skydio
Skydio is the leading U.S. drone manufacturer and world leader in autonomous flight. Skydio leverages breakthrough AI to create the world's most intelligent flying machines for use by consumer, enterprise, and government customers. Founded in 2014, Skydio is made up of leading experts in AI, robotics, cameras, and electric vehicles from top companies, research labs, and universities from around the world. Skydio designs, assembles, and supports its products in the U.S. from its headquarters in Redwood City, CA, to offer the highest standards of supply chain and manufacturing security. Skydio is trusted by leading enterprises across a wide range of industry sectors and is backed by top investors and strategic partners including Andreesen Horowitz, Linse Capital, Next47, IVP, Playground, and NVIDIA.

Request more info from Skydio
Thank You!