How this agency is overcoming the recruitment challenge
Unlike most agencies, Summerville PD in South Carolina has few problems in finding and hiring top-quality candidates to the force. Here are some of the reasons Summerville PD is competing favorably for talent.
---
Sponsored by Amazon Web Services in alliance with Guardian Alliance Technologies

By Laura Neitzel, Police1 BrandFocus Staff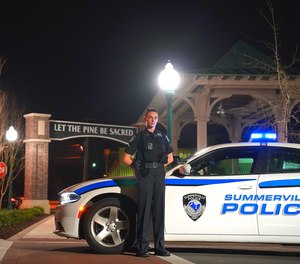 Police departments across the nation are facing staffing shortages, as experienced officers are retiring or resigning and many would-be officers are rethinking their career choice.
However, the Summerville Police Department in Summerville, South Carolina enjoys a rare ability to not only recruit and hire qualified officers to the force, but also selects the cream of the crop when it comes to applicants.
Situated mostly in Dorchester County, but with jurisdiction in nearby Berkeley and Charleston Counties, Summerville is fast-growing community in a fast-growing region of the state, having grown its 2010 census population of 43,392 to over 52,000 in less than ten years – a 21% increase.
With the desirability of working in "The Flower Town in the Pines," and a combination of forward-thinking leadership with disciplined hiring practices, Summerville PD attracts top talent.
Here are some of the secrets to their success.
A commitment to technological innovation
"The Summerville area is very conducive to growth, and because of that, we have a very innovative police department," said Deputy Chief Doug Wright, rattling off an impressive litany of firsts. Summerville PD was the first agency in the state to:
Roll out fully integrated body-worn cameras.
Have a state-approved BWC policy.
Use mobile citations and collision reports.
Have MIL-SPEC tablets issued to each officer.
The department even has its own 911 center that has real-time mapping of all officer vehicles so they can be dispatched to a call based on proximity. The department is savvy in the use of social media. For instance, the dispatch center has a social media team and its own Twitter handle so it can provide live updates regarding traffic flow. In addition, Summerville PD is currently making all their vehicles into mobile hotspots so officers don't need to go into the station to upload video.
"We have a very forward-thinking police department when it comes to technology, ideas and equipment," said Wright. "Our officers are intelligent and are able to navigate using all the latest and greatest technology to help keep their community safer."
A fresh approach to recruiting and hiring
Having access to the latest and greatest technology helps attract candidates, and Wright and his colleagues have also improved the quality of the applicant pool by taking a fresh approach to recruiting and hiring that takes into account the preferences and characteristics of younger generations.
To attract millennials and GenXers who are famously individualistic and tech-savvy, Summerville PD has loosened restrictions on tattoos and facial hair (within certain specifications) and embraced the use of social media to expand their reach.
As a result, the department is attracting a wider pool of applicants who are more diverse in ethnicity, race, gender and are more diverse in educational backgrounds.
Capt. Larry Johnson, who as the criminal investigations commander plays a role in hiring, has also noticed an increase in out-of-state applicants. He attributes this to their use of social media in recruiting.
"Social media is big with this agency in terms of how we get our information out, have transparency within our department and how the public responds to some of things we do in the community," he said. "Applicants that are out of state can see what type of agency we are."
Pre-investigation vetting
Lt. Harold Robinson, a 23-year veteran of Summerville PD, has the responsibility of receiving applications, doing background investigations and conducting pre-employment polygraphs. As at most agencies, it was a manual and time-consuming process until Summerville PD signed on with Guardian Alliance Technologies' background investigation software to prescreen, investigate and approve applicants.
Guardian's cloud-based application allows for the electronic gathering, management, automation, and evaluation of pre-employment law enforcement background investigations and collaborates with Amazon Web Services as the preferred background investigation partner for Amazon's Criminal Justice Reform initiative.
Guardian's platform provides standardized forms to collect information, which helps the agency compare candidates on an equal platform and helps protect against disparity claims, says Robinson.
"Everybody knows that everybody who comes through in the hiring process or onboarding is going to be given the same exact treatment no matter who they are," he said.
Using the Guardian Alliance software enabled Robinson to prescreen applications and narrow the field to qualified applicants before beginning a more thorough background investigation on likely candidates.
The process starts when an agency signs on to use Guardian's free "triage center" to prescreen applicants. The agency invites applicants to create a Guardian profile and complete a digital personal history questionnaire or PHQ. Then the software combs the PHQ, flagging any concerns surfaced by their answers, such as an admission of drug usage, job terminations or domestic violence charges, producing a concerns report for the agency.
One of the inherent benefits of the software is that it connects agencies across the country, building law enforcement's first centralized database of applicant data it calls the National Applicant Information Center (NAIC). When an applicant submits their PHQ to an agency, the software compares answers to other agencies the applicant may have applied to, uncovering inconsistencies and omissions while compiling a comprehensive personal history drawn from PHQs submitted to multiple agencies.  As an AWS Public Sector Partner, the AWS GovCloud (US) helps Guardian provide an ultra-secure platform that protects applicant's data and privacy while complying with the FBI CJIS Security Policy.
Since launching its product in 2018, Guardian has been adopted by agencies in 36 states. As more agencies continue to join the Guardian Alliance network, the information available becomes more comprehensive, and that can make it more difficult for officers who have shown a history of problematic behaviors to move from agency to agency without notice.
A faster, more thorough background investigation
With the PHQs in hand, Robinson and Johnson can make informed decisions about which candidates should advance to the background investigation stage, and then the Guardian Alliance software helps them complete a quicker and more thorough background investigation.
The software automates tasks that would have been done manually before. Prior to having the software, Robinson would manually pull references from the application and start making calls to previous employers, typically only speaking to the most current supervisor, not supervisors from previous jobs held years before.
"With Guardian Alliance and the personal history questionnaire, it does ask that information, and I'm able to reach out to anybody in the whole country with just a couple clicks of the mouse button," said Robinson. "It saves us time, and I couldn't get the amount of data and information that we get any other way."
Wright concurs, adding that Guardian's standardized reports provided by the system are invaluable.
"I read my first Guardian Alliance (report) not long ago, and I was blown away," he said. "I stopped right dead in my tracks and looked at Harold and said, 'Where did you get all this? How did you get all this?' It was a treasure trove."
As part of the background investigation platform, Guardian Alliance also uses technology to intelligently collect information from social media sites and other publicly available data to flag items of concern for human review and adjudication. This is an important consideration, as no agency wants to hire a candidate and then find out the officer had offensive or inappropriate posts on their social media that would discredit the organization or its hiring practices. Additionally, every agency wants to hire the best officers to serve citizens.
Summerville PD credits Guardian Alliance for helping streamline the recruiting and hiring process, and helping them access the information they need to hire candidates.  Because the software is built by law enforcement for law enforcement, there is an extra level of confidence that every agency makes better-informed hiring decisions.
Visit Guardian Alliance Technologies for more information. To learn more about how Amazon Web Services supports its technology partners, visit Amazon Web Services.
Read next: Case study: How forward-thinking Yavapai County Sheriff's Office cut its background investigation time in half in less than a year, became more competitive and saved money
Watch this on-demand webinar featuring Guardian Alliance Technologies: Pre-employment background investigation technology

Request information from Amazon Web Services
Thank You!