Tech inside: DNAscan Rapid DNA Analysis System from GE Healthcare and NetBio
Fully automated, tabletop system provides DNA analysis results in less than 85 minutes
---
The following is paid content sponsored by GE Healthcare Life Sciences 
By Police1 Staff
DNA analysis has been acknowledged as an important tool for fighting crime. However, the long wait times associated with current methods reduce the impact of this powerful technology. Using conventional methods, a buccal swab is collected as a reference sample. Next, the sample is transported to a forensic laboratory where it may wait to be processed for weeks to months depending on the laboratory's sample backlog. When a sample has been assigned for analysis, it is processed to isolate the DNA. Then the analysis method is set up, the DNA is replicated using Polymerase Chain Reaction (PCR), and the fragments are detected. DNA analysis and interpretation is performed by a forensic analyst. Oftentimes DNA results are returned weeks or months after the sample was collected. By then hot leads have turned cold.
Rapid DNA and development of the DNAscan System
Rapid DNA technology was developed to provide a fully automated process from sample collection to DNA results in less than two hours. Rapid DNA technology applies recent advances in microfluidics, reagent stabilization, miniaturization, and other processes to the development of portable instruments that can be used by non-technical personnel to generate data for DNA database searching.
After a highly competitive evaluation of technology platforms, NetBio was exclusively awarded funding to further develop Rapid DNA technology by a government consortium that included the Federal Bureau of Investigation (FBI), Department of Defense, and Department of Homeland Security. The award was based on superior technical merit and demonstrated ability to achieve the program's objectives for instrument data quality, ease of use, robustness of design, and a fully integrated and expandable platform. GE Healthcare has partnered with NetBio to bring the DNAscan Rapid DNA Analysis System to market for law enforcement applications.
 
Cutting-edge technology behind the DNAscan System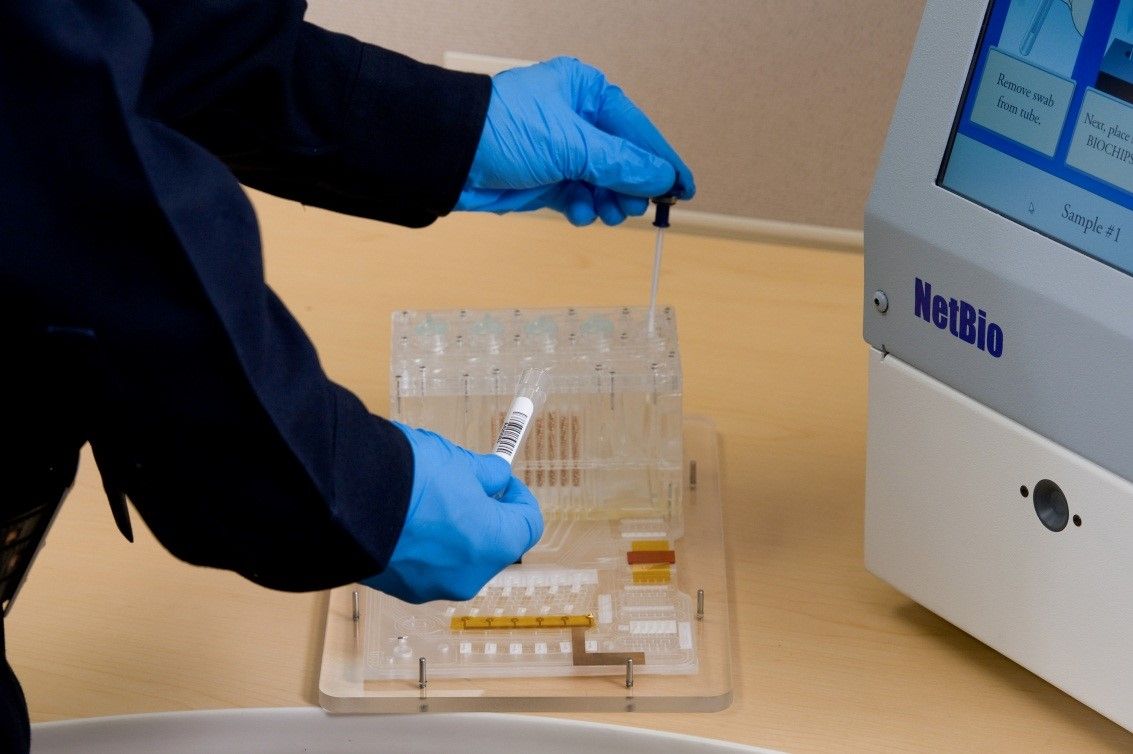 An officer inserts a sample swab into a chamber of the all-inclusive, single-use BioChipSet Cassette. After 5 swabs have been inserted, the cassette is loaded into the DNAscan instrument for automated processing.
The DNAscan Rapid DNA Analysis System integrates and automates all of the traditional DNA forensic laboratory process steps to create a user-friendly DNA analysis capability for operation by non-technical personnel outside a formal laboratory environment. The DNAscan System is operated by inserting five buccal swab samples into a DNAscan BioChipSet™ Cassette, placing the cassette into the DNAscan instrument, and then closing the access door to initiate a run. The DNAscan instrument contains all of the subsystems required to perform DNA analysis using Short Tandem Repeat (STR) chemistry. The BioChipSet Cassette is a fully integrated lab-on-a-chip that uses microfluidic technology to integrate all of the process steps required to generate high-quality STR results suitable for DNA database searching.
Specialized swabs with RFID tags
The DNAscan System is designed for use with NetBio™ BioChipSet Swabs, which are included in DNAscan Collection Kits. Only these specialized swabs will lock securely into the sample chambers of the BioChipSet Cassette to minimize cross contamination. The cap of each swab contains a unique Radio Frequency Identification (RFID) tag that is scanned using the instrument's external RFID Reader. A unique sample ID is then input into the instrument. These two actions link the swab to the individual and/or case file. After the five swabs have been locked into the sample chambers and the cassette has been loaded into the instrument, an internal RFID reader scans the RFID tag in the swab cap. The sample is now linked to a specific sample processing chamber in the cassette and ultimately to the DNA result that will be generated from that chamber.
All-inclusive, single-use cassette 
Each disposable cassette contains all of the required reagents, materials, and waste containment for the simultaneous DNA extraction, purification, PCR, and STR analysis of up to five samples on swabs. The STR reagents used in the cassette are PowerPlex™ 16, from Promega Corp., optimized for use in the DNAscan System. The BioChipSet Cassette is closed, meaning that each sample and the allelic ladder control is processed through its own sealed processing path to prevent cross contamination and ensure that samples and reagents do not come in contact with the instrument itself. The BioChipSet Cassette integrates all DNA process steps based on microfluidic technology and is made of injection-molded parts. For added convenience, the cassettes are designed for room temperature storage.
State-of-the-art instrument
The technologically advanced DNAscan instrument integrates and streamlines sample processing and DNA analysis when used in conjunction with the BioChipSet Swabs and the BioChipSet Cassette. The instrument possesses the following subsystems: (i) high and low voltage power; (ii) rapid thermal cycling; (iii) thermal plate; (iv) pneumatic controls (to drive fluidics using air pressure); (v) optical; (vi) process control and computer controls (including the touch screen user interface). In addition, the DNAscan instrument has been ruggedized to meet US Military 810F standards to protect it from shock and vibration during transport and operation. This means that the instrument can be transported or relocated without the need for realignment or recalibration. After sample processing is completed, the instrument's on-board expert system software automatically analyzes DNA data and generates data files for each sample.
Conclusion
The DNAscan Rapid DNA Analysis System is designed for operation by all law enforcement personnel in the booking station. Currently, the DNAscan System can provide DNA types for critical time-sensitive reference samples, which can be cross-verified by a forensic lab using the standardized testing swab also included in the DNA Collection Kit. In the near future it should be possible to create a localized database of DNA samples for contribution to CODIS, as well as to run localized searches to rule out potential suspects much more quickly than is possible using current methods. Most importantly of all, however, and at the core of the law enforcement mission, this new technology has the potential to play an instrumental part in bringing swifter justice to victims and their families by ensuring that those who perpetrate crimes upon others are quickly, and accurately, held accountable for their actions.  
Contact GE Healthcare at www.gelifesciences.com/DNAscan for more information about the new DNAscan System.