PRESS RELEASE
Kyocera maximizes business mobile productivity with ultra-rugged DuraForce PRO 3 smartphone
---
Kyocera's Total Solution reduces total cost of ownership; business-ready to help construction, public safety, manufacturing and agriculture with all-day use, replaceable battery, MIL-STD-810H protection, triple rear cameras, enhanced noise cancellation and more
SAN DIEGO - KYOCERA, a global leader in rugged devices, today launched its ultra-rugged DuraForce PRO 3 Android smartphone with comprehensive business tools to help enterprises, small businesses, first responders and a variety of vertical industries that rely on rugged, reliable mobile technology. Now available from Verizon, it's certified for Verizon 5G Nationwide and 5G Ultra Wideband1 for public and private network connectivity at blazing fast speeds.
With more businesses operating virtually in the field using mobile devices, productivity, durability and reliability have never been more crucial. Increasing mobile productivity and reducing operational cost typically tops managers' operational goals. By offering quality ultra-rugged products with a 2-year warranty along with an expanding ecosystem of accessories, services and solutions, Kyocera has worked with businesses and first responders to maximize productivity and lower their technology budgets. In fact, according to VDC Research, rugged smartphones have been proven to deliver a 53 percent lower total cost of ownership (TCO) than non-rugged smartphones when supporting similar business and mission-critical frontline mobile applications.2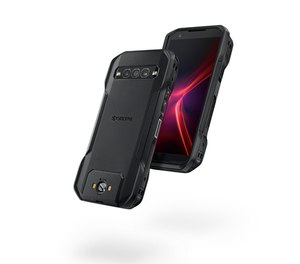 Kyocera's Total Solution: rugged protection to help businesses thrive
MIL-STD 810H3 and IP68 dust and waterproof protection4 are a must for a rugged smartphone, but Kyocera's DuraForce PRO 3 is more than a set of specs. This smartphone gives a company full connection to Kyocera's comprehensive suite of accessories, vertical-specific services, and partners, combined with Kyocera's best-in-class Business Select customer service. Enterprise customers and first responders receive customized device provisioning, lifecycle management and a dedicated customer service line for reliable support. Additionally, Kyocera provides expedited device replacement options, when needed, to help ensure businesses are up and running with limited or no downtime. Kyocera is an Android Enterprise Gold Partner, which certifies the company's excellence in customer support, product excellence and performance.
With ultra-rugged DuraForce PRO 3's enterprise-level durability including Class I, Div. 2 hazardous location protection, Wi-Fi 6E, blazing 5G speeds, dual SIM for public and private network support, enhanced security features, and an outdoor-visible display, businesses can focus on their to-do list without worrying about technology interruptions. Its X-frame structure adds reinforcement to withstand drops, dirt, water and more. It can also be washed and sanitized to ensure worker safety on the job site. Featuring the Qualcomm® Snapdragon 7 with an octa-core chipset and 6GB of RAM, DuraForce PRO 3 enables fast response times with quick access to data, and easily integrates into any new solutions being deployed.
Designed for all-day use, the device features a removable and replaceable rugged battery (4270mAh lithium polymer) with a slide-lock to prevent unintended displacement.
Kyocera continues to address the needs of various industries in developing DuraForce PRO 3, perfecting the design and working with partners on tools to help operational efficiencies specific to each vertical, including:
Construction: 87% of construction managers view an increase in operational efficiency as very important for new digital tools.5 DuraForce PRO 3 has them covered for all-day use with its ultra-durable, replaceable battery to ensure construction crews don't miss a beat on job sites. The enhanced cameras (64MP main, 16MP wide-view, 2MP macro) help ensure projects are documented, and 5G speeds transmit images and videos in real-time to keep schedules on track. Improved GPS dual-band location and expanded security features help keep crews and data secure.
Public Safety: Kyocera and Visual Labs have partnered with many police departments for a body-worn camera solution using Kyocera's rugged smartphones as law-enforcement demand continues to grow. Compact enough to work as a body-worn device with programmable buttons, DuraForce PRO 3 is designed to help first responders work faster and smarter — ensuring reliable mission-critical communications with MCPTT6 capability, loud-clear 100dB+ audio for noisy environments, AI-enhanced dual-mic noise cancellation, all-day replaceable battery, plus a scratch- and shatter-resistant display designed for outdoor visibility with glove and wet-touchscreen operation.
Transportation & Logistics: Enterprise Push-To-Talk (PTT) remains especially important in this industry's noisy environments — along with AI-enhanced audio, dual-mic noise cancellation, PTT+6 support with key accessories like vehicle charging kits and mounts, and improved dual-band GPS for ensuring driver safety. For trucking companies or transportation workers who encounter hazardous materials — including airplane refuelers and rail cargo handlers — DuraForce PRO 3 is certified for use in Class I, Div. 2 hazardous locations.
Manufacturing: Mobile technology is essential to optimize manufacturing as part of companies' digital transformation. In fact, 74% of supply chain leaders are increasing their investment in supply chain technology and innovation, including mobile technology.7 Ultra-low latency helps industrial automation, and in-building enterprise-grade Wi-Fi 6/6E with roaming capabilities can provide smooth, seamless mobility as users move across the manufacturing floor. Enhanced security features help keep data safe.
Agriculture: Super-fast 5G data transmission speeds keep farms and agribusiness connected using productivity apps for regulatory compliance, payroll, timekeeping, and crop monitoring, while improved dual-band GPS can locate workers accurately to the nearest centimeter. The scratch and shatter-resistant display is designed for clear outdoor visibility in the glaring sun, and DuraForce PRO 3's drop-proof, waterproof design keeps it up and running when dropped in the field, in mud or puddles.
"Businesses have a continuous need to improve productivity while lowering costs," said Vipul Dalal, Divisional Vice President at Kyocera's Communications Equipment Group. "The ultra-rugged protection of DuraForce PRO 3, combined with our Total Solution of accessories, services and partners, all help lower the total cost of ownership of critical mobile technology. We've worked with best-in-class partners to create a 'one-stop shop' that solves the specific technology challenges of various industries. Reliable mobile solutions that enhance operations allow businesses to stay focused on what they do best with the peace of mind that a tech mishap won't slow them down."
See a full list of DuraForce PRO 3 features here.
1 Exact speeds and coverage for the Verizon 5G UW Network can be found here. Verizon 5G Ultra Wideband available only in parts of select cities. 5G Nationwide available in 2,700+ cities.
2 Source: VDC Research, 2022
3 Up to 5 ft on concrete. Compliant with a MIL-STD test (MIL-STD-810H Method 516.6, Procedure IV "Transit Drop"). Results may vary.
4 IP6X dustproof, blowing dust & sand. IPX8 waterproof for low pressure water and immersion at 6.5 feet for 30 mins.
5 Source: FlowForma, Building the Foundations of the Future, Now, July 2022
6 PTT+ and MCPTT require a subscription, additional fees may apply.
7 Source: 2023 MHI Industry Report
About Kyocera
Kyocera International Inc.'s Communications Equipment Group (CEG) is the headquarters for Kyocera wireless devices in the Americas. With a history of quality and innovation delivering many "firsts" to the U.S. market, Kyocera is the leader in rugged mobile solutions. Launching more than 100 waterproof and rugged mobile devices globally over the last 10+ years, Kyocera strives to offer rugged, reliable technology as an integral part of a total mobile offering: combining MIL-STD 810G/H-compliant ruggedization and enterprise-grade security with a partner ecosystem, industry-specific applications and innovative accessories. Working with leading service providers, Kyocera has created a "Total Solution" offering that helps deliver a significantly lower total cost of ownership to a wide range of industries such as public safety, transportation, and construction. White glove services including overnight advanced replacement, custom provisioning, repair and more, help improve productivity for business customers. When it comes to blending performance, durability and support, Kyocera's rugged mobile solutions are in a class of their own. For more information, visit kyoceramobile.com or follow the company at facebook.com/kyoceramobile, twitter.com/kyoceramobile, youtube.com/kyoceramobile, instagram.com/kyoceramobile and linkedin.com/company/kyoceramobile.

Request more info from Kyocera International, Inc.
Thank You!