Automate your inventory management to save time, money
Quartermaster software can help your agency keep track of mission-critical supplies and better plan for budgets and replacement costs
---
Sponsored by QueTel
By Police1 BrandFocus Staff
After salaries, the largest items in law enforcement budgets are the materials vital to helping officers protect and serve – equipment, apparel and supplies. Managing warehouse stocks and tracking responsibility for weapons, body armor, laptops, uniforms, leathers, batteries, bullets and flares is no small task.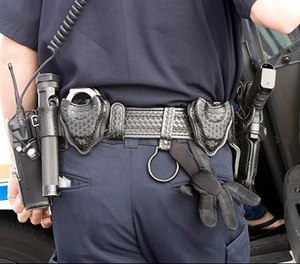 A recent Police1 survey revealed a wide range of methods used to keep track of these vital supplies, from paper records to spreadsheets to software specifically designed for police inventory management. Many respondents reported that different divisions within their agency keep separate records, and a third or more don't keep any record of repairs, maintenance or inspections to radios, weapons and IT equipment like laptops and tablets.
These results suggest that although law enforcement has adopted advanced technologies on the street, the technology used to manage inventory has not kept pace. Police agencies would benefit from using more advanced tools to unify how they manage inventory and maintenance for mission-critical equipment.
Save time, money with automated inventory management
Combining barcodes with a fully integrated browser system can save time and money by eliminating time-consuming paperwork and manual errors.
An IT-friendly browser application can simplify the problems associated with using separate systems for inventories in the warehouse, the arsenal/range, communications and IT, eliminating the need for tedious comparison and reconciliation between records from different divisions. Barcodes not only enable faster check-in and check-out of supplies and equipment — they also simplify physical audit of storage locations.
"A modern quartermaster inventory system not only reduces stock outages and makes accountability easier, but it also helps project future funding need bases on replacement cycles," said James Cleaveland, president of QueTel, a software company that provides tracking and management software for law enforcement business operations.
Know what you're working with
QueTel's Quartermaster TraQ inventory management software, designed specifically for uniformed services agencies, uses barcodes to automate all supply functions into one umbrella browser system. The system uses barcodes to help control stock levels, including physical inventories, and automatically tracks and reports expiration dates, warranties and grant-funded equipment.
Quartermaster TraQ helps agencies save time, eliminate paper and maintain a centralized record for inventory, assignment and cost management. Keeping track of everything in one system also helps eliminate gaps and reduce the potential for error. Each unit responsible for managing various types of equipment, as well as uniforms and supplies, uses the same software to manage inventory levels, to track of what each officer or deputy is responsible for and to project future budgets.
"Well-designed database systems can eliminate time-consuming, error-prone manual recordkeeping and make searches, reporting and costing quicker and more accurate," said Cleaveland.
Quartermaster TraQ provides centralized record-keeping and accountability while decentralizing day-to-day responsibility for managing different types of items. Interactive, user-friendly browser screens make searching and reporting easy, and the smartphone capabilities in the mobile scanner make it intuitive to use.
Track inventory for budget planning and cost control
Taking inventory is one thing, but it's also important to keep track of expiration dates and required maintenance and inspections. Using inventory management software like Quartermaster TraQ can help you make the case for necessary replacement of vehicles, weapons, computers and other equipment and supplies. The system includes optional modules for:
Tracking vehicles and their contents.
Controlling pooled items.
Recording inspections, calibrations and preventive maintenance.
Recording repairs and maintenance.
Quartermaster TraQ records the useful life of equipment and alerts managers when the time comes to replace ballistic vests, less-lethal weapons, pepper spray and other expired supplies. This makes it easy to calculate future budget impacts of replacement cycles, based on what needs to be replaced for each year.
"It's one thing merely to record to whom equipment, uniforms and supplies have been issued, but it's another thing to anticipate what needs to be done in terms of stock replacement, expiration and end-of-warranty dates, inspections and preventive maintenance," said Cleaveland. "These functions differentiate a quartermaster system from simple recordkeeping, whether on a spreadsheet or in paper files."
Why inventory management matters
Police agencies need a modern quartermaster system that can handle the complexity of managing armory supplies and vehicle assignments, as well as the more straightforward issue of uniforms and supplies. Knowing exactly what your agency has on hand, and who has it, means you can better manage supplies and reduce costs by eliminating waste, and properly managed equipment and supplies means your officers are prepared to protect and serve. 

Request information from Omnigo
Thank You!