Fleets Prevent Dead Batteries and Delays with Havis ChargeGuard Auto Shut-off Timer
---
Minimize your fleet's daily stress and lower maintenance costs with one low-cost product by Havis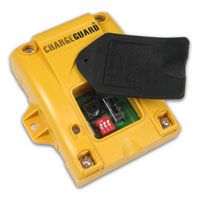 Warminster, PA - For many businesses, the hassle of a dead vehicle battery doesn't just affect their drivers – it delays shipments, raises vehicle maintenance costs, and increases downtime caused by service calls.
With winter quickly approaching, companies should consider the effects cold weather has on their fleet's batteries. As stated in Ralph E. Scheidler's "Introduction to Batteries and Charging Systems", falling temperatures diminish a battery's electrical capacity while increasing the amount of power the battery needs to crank the engine. These conditions put vehicles at a greater risk for a dead battery.
Havis Inc. manufactures a low-cost and easy-to-use solution to this common problem with the ChargeGuard Auto Shut-off Timer. ChargeGuard is the latest version of the original automatic shutdown device that prevents battery drain and extends battery life. The device also provides complete voltage protection for expensive electronics.
With ChargeGuard Auto Shut-off Timer, critical aftermarket electronics, such as computers, two-way radios and card readers, are always available to the drivers, officers and technicians that depend on them. They can leave the vehicle unattended, if needed, without having to remember to turn their equipment on or off.
ChargeGuard works by automatically turning mobile equipment on when the engine is started. When the engine is turned off, the equipment stays on for an adjustable period of time, and then is automatically disabled. When properly deployed, ChargeGuard will eliminate the hassle of a dead battery at a very affordable price -- cheaper than a single tow.
Companies that invest in the ChargeGuard solution will improve productivity, minimize downtime, and lower maintenance costs. By preventing battery wear and tear, ChargeGuard saves companies from unnecessary cost of battery replacement. It also reduces fuel costs by running equipment after the engine has been turned off.
"With the installation of the ChargeGuard unit, we have not had to replace a battery, nor have we had a battery-related service call (jump start) on a vehicle equipped with the unit," said Sgt. Ken Gregory of the Hoover Police Department in Hoover, Ala. "By eliminating the cost of replacing batteries, service calls, and reducing officer downtime for vehicle repairs we have more than covered the cost of the ChargeGuard units."
ChargeGuard is one of two Havis solutions that manage vehicle power and fuel consumption. Next month, Havis will be launching the next generation of its IdleRight™ Fuel Management System. IdleRight2 is designed to work with many popular after-market remote starters to increase fuel efficiency and decrease engine wear and harmful exhaust emissions.
With these solutions, Havis aims to reduce budget costs for departments and businesses by keeping officers and employees on the street and minimizing unnecessary dead batteries, wasted fuel and excessive engine wear. For more information on the ChargeGuard Auto Shut-off Timer, please visit www.chargeguard.com.
About Havis
Havis Inc. is a privately held company that manufactures in-vehicle mobile office solutions for public safety, public works, government agencies and mobile professionals. For over 80 years, the Havis mission has been to increase mobile worker productivity with industry-leading products that are built to the highest safety and quality standards and are designed with comfort in mind. Headquartered in Warminster, Pa., with an additional location in Plymouth, Mich., Havis currently employs 175 people. For more information on Havis, please call 1-800-524-9900 or visit www.havis.com.

Request more info from Havis
Thank You!