PRESS RELEASE
Scheduling software company offers free templates for law enforcement professionals
---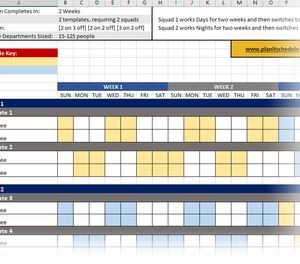 Many police departments and sheriffs' offices go through annual shift bids around this time of the year. It can be a long and daunting process trying to gather and assign all the new schedules. PlanIt Schedule recognized this was a widespread problem and drafted up an Excel workbook filled with pre-configured schedule templates.
PlanIt Schedule services over 550 law enforcement agencies throughout the country. Their police software is built to aid departments with managing 24/7 schedules, monitoring minimum staffing, tracking overtime hours, and much more. Therefore, their team has experience with many different scheduling trends in the industry.
First, PlanIt identified the need to share examples of the most common 8, 10 and 12-hour schedule rotations. These sample templates give departments an idea of common rotations that they can try out if they're looking to switch up their schedules. PlanIt offers these different types for free on their blog but realized departments also wanted a tool to help them test the new schedules out before implementing.
In addition to those free 8, 10, and 12-hour templates, PlanIt recently added an Excel workbook for download. This tool includes all sample templates, in a spreadsheet format so that police administrators can plan out their new schedules right on the spreadsheet. Check it out https://www.planitpolice.com/blog/tool-to-easily-test-and-implement-new-patrol-schedules-for-officers
 "Very user friendly along with being a very proficient tool for all scheduling aspects. It is literally the best program to have for all scheduling aspects." -Sadsbury Township PD
"It's well organized, customizable, and easy to use. We were able to eliminate several redundant systems and combine them all into PlanIt." -Lower Merion PD
"Great program, great support, great price…" -Forty Fort Police Department
About PlanIt Schedule
With over 15 years of experience, the PlanIt team takes pride in their expertise with public safety scheduling. They provide a robust yet easy-to-use personnel scheduling system for law enforcement, EMS, fire and dispatch agencies. To learn more please visit http://www.planitschedule.com.

Request more info from PlanIt Schedule
Thank You!