PRESS RELEASE
Mark43 and Portland Parks & Recreation announce new partnership to deliver a flexible and mobile technology solution
---
Industry-leading cloud-native records management system will support park rangers in their mission of "helping Portlanders play" through connection to the community
New York — Mark43, the leading cloud-native public safety software company, today announced that it is partnering with Portland Parks & Recreation (PP&R) to bring its industry-leading records management system (RMS) to Portland Park Rangers. The effort will provide Rangers with a secure and reliable data-driven platform that supports the safety of the entire community. Portland's Park Rangers patrol more than 200 parks and natural areas comprising around 12,000 acres across Portland. 
Mark43 RMS enables real-time information sharing, faster report-writing, and can also promote improved work performance and job satisfaction. By replacing a pen and paper system, Mark43 RMS will reduce time spent on administrative tasks and support Portland's 30 full-time and 15 seasonal city park rangers in spending more time out in the parks with the public and providing a positive public safety presence across park facilities. 
Specifically, this new RMS will support rangers in record-keeping of off-leash dog violations. These and issues around removing pet waste are among the top complaints in the Portland park system. Portland has the highest number of dog parks per capita for a major city.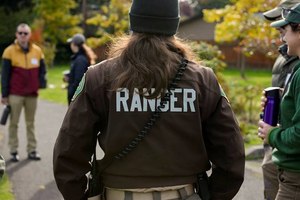 The Mark43 platform will also help Portland Park Rangers address challenges including unpermitted events, illegal dumping, vandalism and damage, and assist with connecting people who are experiencing homelessness to social services. While 98% of calls for service and contacts to Portland Parks & Recreation Rangers are resolved without police or fire intervention, 2% of all calls require that they route their concerns to these agencies or other City partners. The ability to share information with these partners was a critical reason why PP&R chose Mark43.  
Matt Polega, Mark43 Co-founder and Head of External Affairs said, "We are thrilled to launch this partnership with Portland Parks & Recreation to support their critical work of creating vibrant and accessible parks across Portland. Our proven technology will provide rangers with the tools they need to collect and analyze data on issues critical from livability and behavioral health concerns to park safety. Parks play a critical role in the day-to-day lives of Portland's  residents, and using the Mark43 RMS will help the PP&R rangers ensure that these public places are safe and beautiful places that Portland's residents can continue to treasure." 
Mark43 promises an innovative, resilient, and best-in-class technology for Portland Park Rangers. In particular, the user-friendly system is cloud-native, which means it updates in real time and allows for users to remain constantly connected and share information throughout the day. In addition, with dedicated customer support, Mark43 provides 24/7 steadfast assistance to address any needs and questions as they arise.  
About the Portland Parks & Recreation Rangers
Portland Parks & Recreation Park Rangers patrol park property every day, responding to calls for service and proactively engaging with visitors. Rangers serve multiple roles by providing park visitors with resources and information, helping solve park user conflicts, and enforcing City Code. Park Rangers help ensure visitors have a positive experience and that Portland's cultural and natural resources are protected.
Portland Park Rangers are not law enforcement officers, but do have authority under City Code to issue park exclusions or citations. In addition to ongoing in-service training, all staff within the Park Ranger program, including dispatchers, undergo a 4-week Park Ranger Academy. 
For more information about Portland Park Rangers, please visit portland.gov/parks/rangers 
About Mark43
Mark43 is the leading cloud-native public safety technology company. By delivering a modern, intuitive and mobile-first Records Management System, Computer-Aided Dispatch and Analytics platform, Mark43 empowers governments and their communities to improve the safety and quality of life for all. Working with more than 200 local, state and federal public safety agencies, Mark43 is transforming how first responders use technology to respond, engage and serve the community. Mark43 provides the tools, resources, expertise, and security foundation that public safety needs today, tomorrow, and beyond. For more information or to request a demo, visit www.mark43.com.  

Request more info from Mark43
Thank You!