Spotlight: Xpediter Technology eliminates the need for paperwork within the LE community
Xpediter Patrol C/S sets the standard for automated field reporting
---
Company Name: Xpediter Technology
Headquarters: Carlsbad, CA
Signature Product: Xpediter Patrol C/S
Website: http://www.xpediter.com/store/c1/Featured_Products.html

Xpediter Technology was founded with the sole purpose of developing premier mobile data management software solutions for police departments and law enforcement agencies. With over 800 successful installations nationwide, Xpediter's field proven technology has become nationally accepted.

Q&A Questions:

1. What was the inspiration behind starting your company?

In law enforcement, it's a fact – not a clichè – that every second counts. From the field to the court, in the office and on the street, efficiency isn't just a matter of convenience; it can be the difference between life and death.

Xpediter's vision from the beginning has been to provide law enforcement with a software application that would eliminate the need for paperwork and streamline the entire process, from where the incident begins into the RMS, and allow the information to be accessed on a real-time basis.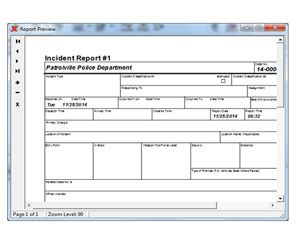 2. What is your signature product and how does it work?

Xpediter Patrol C/S sets the standard for automated field reporting by offering a unique combination of valuable features, each designed to support the product's core mission. The system has been designed to maximize software configuration flexibility and can interface with existing CAD and RMS applications.

System administrators can easily configure the application for agency specific needs – from changing drop down list items and narrative templates to setting up their own security access groups. This information can then be easily synchronized to all mobile client computers. The server computer contains a database with all case information. From this database, a subset of data is entered into the query database which is then synchronized out to all mobile client computers, providing a powerful investigative tool to all detectives and officers in the field.

Xpediter created this revolutionary concept from printed forms. This technology allows the format of the form to expand or contract according to the data being entered, giving you greater control and reducing your paper handling burden. As a result, conviction rates go up – this is verified! You have the ability to query on any aspect of your incident as well as every officer's incident within your entire department.

The heart of the software is the Field Reporting Control Center. A user can enter a case, add, edit, preview and print forms. Cases can be forwarded from the control center and officers can access all other field reporting functions. With Xpediter, a user can immediately access all modules and enter case information with just one click of the button. The entire system is designed to create a simple workflow process by providing speed, accuracy and convenience with drop down and multi select lists.

Enter an address only once per case. Enter a zip code and the city and state are automatically filled in. Enter a person or vehicle into the case and easily select them again from a drop down list. The penal code database allows you to enter a section code and all pertinent information is automatically filled in. Type in a previously entered person, vehicle, property item, or business and all data is automatically filled in.

3. Why do you believe your products are essential to the police community?

Xpediter Technology offers a robust automated field reporting system that is making a difference in hundreds of agencies nationwide. Xpediter automates crime and traffic incident data collection, field reporting and crime analysis. Tests have proven it can save over 50 percent of the time an agency spends on paperwork, resulting in up to 30 percent more time for an officer to perform their primary duty: fighting crime. Xpediter is a proven way to save time, improve efficiency, increase effectiveness, and reduce costs.

4. What has been the biggest challenge your company has faced?

In the early 90's, the adoption of technology by law enforcement was our company's biggest challenge, yet we were certain that Xpediter could help officers save time and solve crime. Now that the law enforcement community has fully embraced technology, this is no longer an issue.

5. What makes your company unique?

Many companies rise and fall in this industry. Xpediter has withstood the test of time. Not only are we still in business after almost 25 years, but we are in business with some of our same core employees that have been with the company since the 90's, providing technical continuity and support. Officers like to know that year after year they are still dealing with the same people year after year!

6. What do your customers like best about you and your products?

We have spent countless man hours and millions of dollars to build a robust and user-friendly system. One of our goals was to create a program that a police officer could just pick up and use, not requiring a lot of training. We have been told that it can take a new recruit as little as 30 minutes to learn how to use Xpediter…it's that simple!

Our customer service is top notch. We have been serving the law enforcement community for over two decades and still retain many of our original customers who came on board with our original FoxPro application, transitioned to our 16-bit program and then to our 32-bit Client/Server program we currently offer. This is customer loyalty at its finest.

7. What is the most rewarding part of serving the first responder community?

The goal of our industry is to provide the necessary tools for our first responder community to complete their jobs in the most efficient way possible. When we hear that a chief has not had to make a court appearance in over a year because Xpediter has provided their officers a way to make sure documentation is complete and thus no additional information is needed, that is a job well done. When we learn that multiple cases have been cleared at an agency based on Xpediter's implicit search capabilities, that is when we know our product is an invaluable resource for our officers.

8. What's next for your company? Any upcoming new projects or initiatives?

Xpediter is proven in the field under tough conditions, Xpediter works. With the input from agencies across the country it works better every day. Xpediter has always been an evolving product. The current version has gone through at least five major evolutions. Every step in this evolutionary process has involved customer feedback.

We are developing Xpediter NetCAD which is a system that will make CAD an affordable solution for smaller agencies.

We are currently working on a use of force report form that will be released shortly as many states are requiring compliance.

Our Crime Mapping Module is in its second phase, and will enable agencies to map various aspects of their data so that they can make better decisions in their jurisdictions.