How police departments can use a new platform to make sense of raw video data
Public-safety organizations can leverage digital media information and evidence though powerful cloud-based technology
---
This content is sponsored by CitizenGlobal.
By Police1 Staff
The widespread availability of camera devices that can take pictures and record videos means most crimes or emergency events are captured on camera. To process the data, CitizenGlobal launched an innovative platform for law enforcement to collect, sort, analyze and distribute an unprecedented volume of photos and videos in a timely and cost-efficient manner.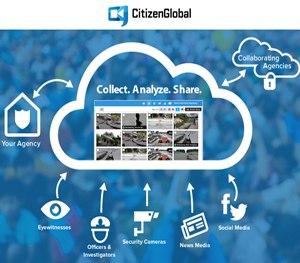 Following the 2013 Boston Marathon bombings, the Boston Police Department and the FBI had no other option to handle uploading pictures and videos from eyewitnesses, other than using their limited onsite email server.  The agencies were overwhelmed with the amount of video and photo information that eyewitnesses submitted.
With no central place to collect it, much of the data was lost, damaged, compressed or not able to be uploaded because there wasn't the bandwidth to efficiently and securely collect files. Furthermore, the rapid analysis, review and distribution of information were hampered by antiquated systems.
After that tragic event, members of the Los Angeles County Sheriff's Department took the initiative to find a solution for law enforcement by turning to the private sector. CitizenGlobal's crowdsourcing and digital evidence platform, which sits on top of the highly-scalable Amazon Web Services cloud infrastructure, was identified as the leading, end-to-end solution.
A cloud-based solution
CitizenGlobal is a robust cloud-based solution for collecting, storing, managing, analyzing and distributing on-the-scene photo and video information available for use by agencies on a day-to-day basis and during major events.
The CitizenGlobal solution handles and secures massive amounts of on-the-scene photos and videos from external sources (including eyewitnesses, social media postings, news media, security cameras and more) as well as internal ones (including law-enforcement officers, investigators and administrators).
The cloud infrastructure allows for seamless sharing of relevant information to enable law enforcement, relief agencies and first responders to immediately react to events or securely store that data for further analysis.
A central depository
All media is received into one secure central repository where it can be collaboratively managed, organized, analyzed and shared by participating agencies.
Core features include original evidence tracking; media audit trails; view/search media on maps and timelines; integrate facial recognition capabilities; and secure APIs and access control.
Proprietary content ingestion and the storage process include the following: original data is fingerprinted (MD5 Hash); original data is scanned for viruses; automatic extraction of file metadata; and copies created and available for review.
Officers can login and upload content from the scene as well as access management functionality of the administrative panel as the system integrates with body cameras and dash-cam devices.
The system also offers customer-branded apps to receive media from eyewitnesses including iOS/Android Mobile, website, Facebook and desktop users.
In addition, CitizenGlobal's social feeds allow agencies to perform searches on social media content using custom search criteria. Multiple social feeds can be rapidly analyzed via a centralized interface, while social media content can be stored safely in the CitizenGlobal secure library.
A tool for collaboration
A cutting-edge, collaborative analysis interface enables multiple analysts to review content simultaneously. Data is updated in real-time between collaborators. Chat and private sharing features enable communication by multiple analysts from any location.
Key features include the following rapid content analysis; GPS and IP address tracking; customized mapping display of media submissions; media Review Queue efficiently distributes content between analysts; and robust filtering/sorting options (GPS/Time/Date). It also offers automatic transcoding of all media; annotation capability (Text/Arrows/Highlights); multi-speed options for video viewing; audit trails; multiple levels of user permissions; downloading of original and custom formatted content; and customized organizational folders
A suite of products
There are three products available through the CitizenGlobal platform.
Community Connect is the premier crowdsourcing solution that enables law enforcement, municipalities, schools and businesses to efficiently manage an enormous amount of video and photo data from events including day-to-day crimes, infrastructure issues, campus security events, insurance claims and more.
It offers customer-branded eyewitness upload apps on mobile, web and desktop; social media monitoring tools; collaborative analysis interfaces; automatic transcoding of files; anonymous uploads; secure storage of content with fingerprinting; and file metadata.
The Squad Connect is a multimedia evidence solution, a breakthrough case management application for mobile and web that captures on-the-scene media from multiple devices. The Big Data solution utilizes cloud-based technology to organize, share and analyze data received from any location.
Key Features include the ability to collect media from multiple sources, from staff smartphones to body cameras; evidence management; secure access; audit trails; advanced searching; GPS/timeline filtering of evidence; automatic transcoding of files and storage of content with fingerprinting.
LEEDIR, or Large Emergency Event Digital Information Repository, is a nationwide program that launched in April 2014 that enables U.S. law enforcement and relief agencies to leverage a short-term free version of CitizenGlobal during major terrorist/criminal events and natural disasters. LEEDIR was created with the L.A. County Sheriff's Department as a result of the Boston Marathon bombings.
Managing the increasing deluge of multimedia can be achieved by choosing a cloud-based, collaborative system to manage data and turn it into actionable intelligence.