A 3-pronged approach to making pursuits safer
Training, technology and more consistent policies are key to balancing the need to apprehend fleeing suspects with the risk to first responder and public safety
---
Sponsored by Pursuit Response
By Laura Neitzel for Police1 BrandFocus
Rarely does a day go by without a police pursuit ending in a crash and taking an innocent life. Despite the probability of this unfortunate outcome, suspects often continue to flee for minor offenses such as illegal U-turns, speeding and outstanding tickets.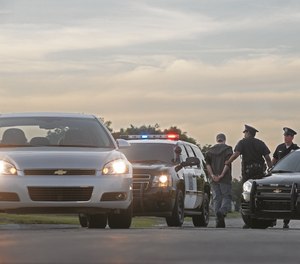 Less than 9% of the time a police chase initiated over a violent felony. Less than 15% of the time a driver is believed to be intoxicated.
Dangerous pursuits were on the rise in 2017, claiming 416 lives. With the numbers heading in the wrong direction, law enforcement leaders, technology companies and lawmakers are coming together to strengthen pursuit policies. The goal is to educate law enforcement and the public about technologies that can reduce the risk inherent in pursuits.
Detailed below are a few developments within the industry that law enforcement agencies would be smart to take advantage of in order to better serve themselves and their communities.
Why officers should train to department policy, not field practice
Every department has rules, but practices on the street often play out differently. The policy of what should happen doesn't always align with what does happen because of the often dangerous, quick-paced nature of the job.
When an officer is responding to an incident where a citizen or a fellow officer is in danger, the responding officer may be tempted to jump into the patrol vehicle and race to the scene.
Department policy or state law may require an officer adhere to a speed limit, follow traffic laws, use a seat belt, slow down at intersections or report their position. That is "policy."
However, in an effort to respond quickly, the officer may skip these necessary steps. An officer may skip putting on the seat belt, exceed the speed limit, pass slow traffic on the right or barrel through an intersection without turning their head to see what other traffic is approaching. That is "field practice."
The officer is focused on getting the job done, but in order to get to that call quickly, the officer may experience tunnel vision which puts their personal safety and the safety of others at risk.
By following practice rather than policy during a pursuit, the officer in this scenario is also passing up the opportunity for the policy to work as intended. They are not giving the supervisor the chance to evaluate the situation and to call off the pursuit when the risks outweigh the urgency or importance of the situation.
When almost half of all police pursuits are initiated by traffic violations or nonviolent misdemeanors, chances are the pursuit is not worth the risk. That's one reason why the policy exists, and that's why trainers need to train officers to follow the policy rather than choose their own field practice.
A tool like FAAC's  Virtual Instructor and Trainee Assessment and Learning System (VITALS) can help ensure each officer trains to policy, not field practice, by recording a student's every step for effective review and assessment.
3 road safety actions law enforcement should be taking now
According to the Bureau of Justice Statistics, an average of one person per day is killed annually in pursuit-related crashes. One-third of these victims are innocent bystanders.
As law enforcement associations like the National Sheriffs' Association and the International Association of Chiefs of Police work to educate law enforcement and prevent future loss of life on the nation's roadways, here are three ways agencies can take action now to keep officers and civilians ­­safer on the road.
1. Prevent car theft
A vehicle is stolen every 41 seconds in the United States, and car thefts are at an eight-year high. More than 18% of police pursuits involve a vehicle thought to be stolen. One way to reduce dangerous pursuits is to prevent vehicles from being stolen in the first place.
Today's car thieves are savvier than the joyriding pranksters of the past and are more likely to be professional. They are lured by potentially high payoffs of stealing luxury vehicles and shipping them abroad for sale. Preventing auto theft is made even more challenging by drivers like the 229,339 who left keys or fobs in their vehicles between 2016 and 2018, according to the National Insurance Crime Bureau. This represents a 56% increase in vehicle thefts with keys or fobs left in the vehicle for the three years prior.
Preventing car theft and reducing the chances for a police pursuit will require a collaborative effort by law enforcement and the public to raise awareness about common-sense preventive measures like locking doors, taking keys and hiding valuables.
2. Driver training
A second strategy police agencies can adopt to reduce law enforcement road fatalities is increased driver training and certification – and, perhaps most important, annual recertification.
Just because a police officer knows how to drive doesn't mean they know how to drive at 80 or 100 miles per hour in a pursuit, while having to radio information to dispatch and make many crucial decisions about weather, traffic conditions, location, vehicle capabilities and when to end the pursuit.
A motor vehicle is arguably just as deadly a weapon as a police officer's department-issued firearm. An agency would never consider skipping training, certification or annual recertification with a firearm. They shouldn't skip driver training either.
3. Vehicle location assistance technologies
As with vehicle thefts, one good way to reduce the risks inherent in police pursuits is to eliminate the need to pursue. Many new vehicles are equipped with vehicle location assistance technologies like OnStar that provide safety and security services, such as roadside assistance, remote unlocks and automatic crash response. These technologies are also becoming a valuable tool police agencies can use to recover stolen vehicles and end pursuits safely.
If a vehicle owner with active OnStar service files a police report, an OnStar advisor can locate the vehicle using GPS technology. Law enforcement has the option of tracking the vehicle and apprehending the suspect when the vehicle comes to a stop, or, if a pursuit conditions are appropriate, sending a signal to disable the vehicle's engine to gradually slow the vehicle to an idle speed.
Either option helps avoid dangerous situations by reducing high speeds and assisting officers in securing the vehicle more safely and quickly.
Why your agency's pursuit policy can make a life-or-death difference
Police department pursuit policies can also play an important role in reducing the risks associated with police pursuits.
The minimum standard set forth in IACP's 2015 model policy authorizes pursuit only if the officer has a reasonable belief that the suspect, if allowed to flee, would present a danger to human life or cause serious injury.
It also discourages pursuits for minor violations and places the burden on the pursuing officer to conclude that there is a greater potential of danger to the officer and the public if the suspect remains at large. If the subjects can be identified with enough certainty that they can be apprehended at a later time, then a pursuit is not justified.
However, a BJS survey conducted in 2012 found that agencies that left pursuit decisions to an officer's discretion had the highest pursuit rate per officer.
Currently, written vehicle pursuit policies can vary widely in terms of specific criteria that define when a pursuit is permissible, how it should be conducted, and how and when it should end. Ultimately, each agency determines policy, equipment, training, philosophical approach and interjurisdictional issues.
Most departments agree that pursuit policies should balance the need to apprehend a fleeing suspect against the risk to the public, but where that tipping point lies is the crux of the dilemma being discussed by law enforcement leaders and policymakers at all levels of government.
Because policies can vary by jurisdiction, organizations like IACP and states like Connecticut and Ohio are working to standardize the minimum requirements for when a pursuit would be justified or, in many cases, to make the criteria more restricted.
Troopers and some police officers worry that overly restrictive pursuit policies would hamper their ability to do their jobs and embolden criminals, but research indicates that most suspects will slow down to normal speeds when they feel they have outdistanced the police.
The IACP model policy and statewide policies under consideration generally stipulate that pursuits should be continually reevaluated while in progress and terminated when the suspect's identity has been determined and immediate apprehension is not necessary to protect the public or officers.
Pursuit management technologies like the StarChase GPS tagging and tracking system make apprehension at a later time feasible, thus eliminating the need to pursue at high speeds. When reviewing changes to pursuit policy, lawmakers and law enforcement agencies should consider including the use of pursuit-ending technologies as part of their strategies for reducing the risk of police pursuits and fatalities to officers and citizens alike.
For a more in-depth look at these issues, watch for the eBook, Pursuit response for today's challenges: Ways to improve officer and citizen safety through pursuit policy, technology and training, coming soon on Police1.
Request information from Pursuit Response
Thank You!