PRESS RELEASE
Salient CRGT expands mobility product offering to provide law enforcement quick access to investigative data
---
Teaming with Kaseware to help modernize incident reporting, investigations, and case management for law enforcement, commercial, and government.
FAIRFAX, Va. —  Whether it's a state trooper needing an immediate background check on a motorist or an investigator requiring timely criminal evidence for a case, law enforcement officials demand instant access to crucial investigative information. Recognizing this challenge to rise to higher level of performance, Salient CRGT, Inc., a leading provider of technology consulting services has partnered with Kaseware, the leader in investigative case management solutions, to integrate Salient CRGT's VoyagerTM Query for Law Enforcement within the Kaseware investigative case management system to make it easier for law enforcement agencies to obtain criminal justice data.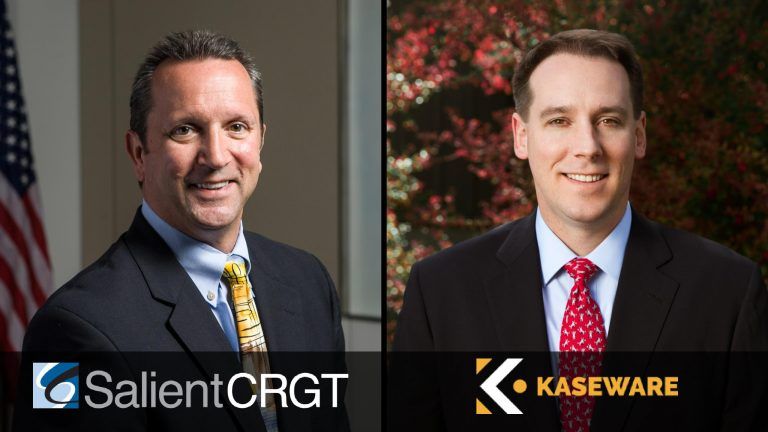 Kaseware investigative case management system combines incident and case management, dispatching, evidence management, and analytics in a single, integrated system. Salient CRGT's Voyager Query's proven, cloud-based CJIS integration platform, paired with Kaseware's integrated system eliminates the need to maintain multiple software products or reinvent connecting to legacy systems and databases. As a result, this strategic partnership enables agencies to cost effectively support information sharing, comprehensive investigations, and crime reduction programs.
"Data sharing in law enforcement is a powerful tool used to not only protect the lives of law enforcement officers, but also enhance public safety and neutralize criminal activity. Partnering with Kaseware further expands Voyager Query's commercial reach and enhance the delivery of critical information to the hands of first responders." said Dr. Larry Rose, SVP of Commercial Services at Salient CRGT.
Salient CRGT currently serves more than 250 law enforcement communities encompassing over 2,100 users using Voyager Query for Law Enforcement. Voyager Query's infrastructure allows authorized agencies to access critical Criminal Justice Information Services (CJIS) compliant data over any wireless network and the ability to message between multiple users and agencies provides a new level of information sharing capability. Kaseware is offered as a CJIS compliant SaaS or on premises integrated suite of capabilities that's easy to use and full featured.
"Kaseware was developed by the same team that built the FBI's current global investigations and case management system. We understand the critical impact of relevant and timely law enforcement data to any investigation," said Chad Fulgham, Co-Founder and CEO of Kaseware and former FBI CIO. "Kaseware's offering of Salient CRGT's National Crime Information Center searching at no extra cost for all Kaseware law enforcement officials customers is yet another example of how Kaseware is committed to supporting our law enforcement professionals."
About Salient CRGT
Salient CRGT provides federal civilian, defense, homeland, and intelligence agencies, as well as Fortune 1000 companies, with expertise and leadership in health, data analytics, cloud, agile software development, mobility, cyber security, and infrastructure solutions. We support these core capabilities with full life‐cycle IT services and training—to help our customers meet critical goals for pivotal missions. The most innovative talent delivery model in the industry, scientifically providing exactly the right people for the customers' most pressing requirements, fuels these critical capabilities. Salient CRGT has earned a record of success with integration and operations of large‐scale, high‐volume solutions. On March 1, 2017, Salient CRGT completed its acquisition of Information Innovators, Inc.– visit newsroom and explore www.salientcrgt.com.
About Kaseware
Kaseware is a tech startup that empowers agencies of any size with advanced investigative and case management technology to deliver incident and case management, investigations, analytics, and information sharing solutions to law enforcement, intelligence, government, and corporate security organizations. Its solution is offered as Software-as-a-Service (SaaS) or On-Premises Enterprise and always supports modern browsers and major mobile platforms

Request more info from Salient CRGT
Thank You!