Product Review: BLACKHAWK! knee and elbow pads
Using the Advanced Tactical Knee/Elbow V.2 pads extensively in the training environment, making hard contact on asphalt, gravel, and concrete surfaces has proven absolutely painless
---
I have longed believed in training under the most realistic conditions possible. For many years, I've told my students that we were not on a shooting range but in a simulated combat area.
In short, once we got a handle on the basics, they should approach training like their lives depended on it. So, in addition to the requisite qualification courses, I typically incorporate a number of dynamic exercises into each firearms training day.
These drills typically incorporate movement — in particular, making quick use of available cover like vehicles, trees, dumpsters, and other objects positioned about the range — which can take a toll on the body.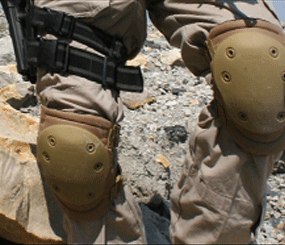 Avoiding 'Little Owies'
Protective knee and elbow pads have long been used by SWAT operators in both training and in the operational environment. At this stage of my life, no one is going to confuse me for some "high-speed, low-drag operator" but I felt this gear may hold some advantages for me as well.
In order to minimize wear and tear, I began using knee and elbow pads from the BLACKHAWK! Products Group. This has enabled me to demonstrate various skills at game speed, without concern about getting banged up with annoying (and avoidable!) "little owies."
BLACKHAWK! markets two families of knee and elbow pads. They include the Advanced Tactical Knee/Elbow Pad V.2 and the Neoprene Knee/Elbow Pad. In several months of testing, both have proven entirely satisfactory.
The Advanced Tactical family of pads is constructed around a 600-denier nylon shell with a molded polyurethane cap. To minimize shock transfer, a closed-cell foam padding is utilized.
This padding retains little or no moisture and effectively cushions the knees and elbows when making contact with hard surfaces. A common fault of inferior pads is slipping downward and BLACKHAWK! overcomes this by incorporating a contoured interior ledge.
Hook and loop elastic straps are used to secure the pads to your appendages and available colors include black, coyote tan, foliage green, and olive drab.
I've used the Advanced Tactical Knee/Elbow V.2 pads extensively and have been very pleased with the results. Making hard contact on asphalt, gravel, and concrete surfaces has proven absolutely painless.
The BLACKHAWK! Neoprene Knee/Elbow Pads are indeed a bit different than the Advanced Tactical family, but are built to the same high standard. The outer shell is constructed with Neoprene that keeps noise levels down and has also proven very comfortable.
The stealth factor is probably a moot point in the training environment, but could be important in real life. Closed cell form provides excellent shock resistance with little or no moisture retention.
The exterior features an outer contact patch for durability and a secure grip to stabilize the knee and elbow and prevent slipping. These pads also have an interior grip patch and contoured ledge to prevent movement downward or sideways when engaged in vigorous physical activity. A unique dual-strap setup ensures the pads stay on during critical missions.
I would have a hard time picking an absolute winner, as both styles of pads delivered the goods during my evaluation. The Advanced Tactical pads were easier to get in and out of; however, the extra padding on the Neoprene Knee/Elbow pads was a big plus when working out on the concrete pad of my home range.
Like many things in life, it all comes down to personal preference.

Request product info from top Tactical Products companies
Thank You!