Daw Technologies Introduces New Ballistic IIIA Clipboard
---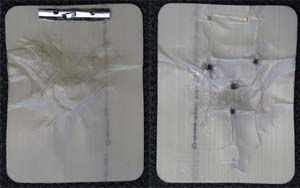 Salt Lake City, Utah - Daw Tech is pleased to announce the launch of a new product – the Ballistic IIIA Clipboard.
The Ballistic IIIA Clipboard was designed for LEO use during traffic stops. During recent testing, the clipboard withstood four shots at point blank range from a .44 Mag.  
The ballistic clipboard measures 10" x 13" and is designed to fit in backpacks, notebooks and computer cases.
Priced at only $139, Daw Tech also offers quantity discounts for this product.
About Daw Tech
Daw Technologies is a Utah-based research, development and manufacturing company established in 1952 and is located in Salt Lake City, Utah. Daw Technologies Ballistic Products is a division of Daw Technologies and has developed a line of ballistic products that includes special operations bunkers and concealable armor plates in various sizes and levels that include NIJ Level IIIA, III Plus and Level IV protection.