Oakley's Standard Issue Prizm eyewear provides maximum target visibility in style
Oakley Standard Issue has released its new Prizm lenses, specially made for target visibility on the range
---
The following is paid content sponsored by Oakley
By Loraine Burger
Police1 Staff
The Oakley brand has long been associated with the highest quality of eyewear and other sport performance equipment, ever since James Jannard created his own unique patented material "Unobtanium®" for use in revolutionary motorcycle grips in 1975 (the same material is still used today to make the earsocks and many of the nose pieces on Oakley eyewear).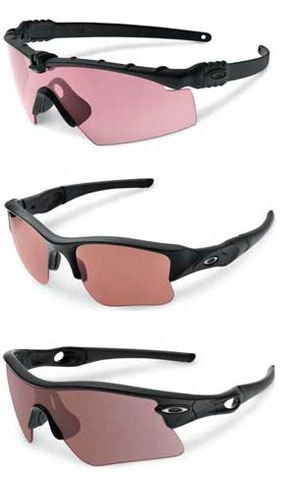 Now, Oakley's newest product has them at the forefront of target recognition eyewear.
Oakley Standard Issue — a product line specifically designed for law enforcement, military, and government use — has released its new Prizm lenses, specially made for target visibility on the range.
Prizm lenses use formulated dye compounding technology to enhance specific wavelengths of color while muting others so that targets are accentuated and background visuals like trees and dirt are essentially subdued.
The lenses were developed using the direct input of the US Army's elite competitive shooters known as the Army Marksmanship Unit, but marksmen of all skill levels can appreciate the contrast that Prizm lenses create — which prevents the shooter's eyes from having to adjust, reducing eye fatigue, producing a faster engagement of a target, and increasing overall confidence.
Prizm technology utilizes the "tuning" of dyes in order to heighten specific colors in both bright and low-light conditions.
"The ability to improve the eye's capacity to acquire targets and identify objects, lines, colors and images is an immediate advantage," said Oakley SI products manager and Army Ranger veteran Drew Wallace.
The Prizm lenses are available with three different frame designs: the Ballistic M frame 3.0, the Flak Jacket, and the Radar Range. All three frames are made from O Matter ®, a durable and lightweight nylon-infused plastic. The lenses are Plutonite, Oakley's high purity optical grade polycarbonate.
"At its foundation, Oakley lenses all use a patented lens geometry know as High Definition Optics, or HDO," said Wallace. "The unique molding techniques used in our lens manufacturing produce lenses of the highest optical quality and impact resistance. Prizm lenses are unique, and different than any other lens on the market, as they are purpose built for a specific application and also use unique and proprietary dye combinations. This compounding of dyes and HDO make these lenses very difficult to match."
Lens options are the TR22 and TR45 for bright and mid-to-low light conditions respectively, as well as a clear lens; all block 100 percent of UVA and UVB and harmful blue-violet light up to 400 nm wavelength.
Standard Issue optics have been a big hit with officers who use them on patrol.
"I do not perform a traffic stop, engage a target, take down a suspect, or clear a structure without the protection and security I get from your unsurpassed protection standards that come with wearing your sunglasses," Danville Police Officer E.G. Wilson wrote to Oakley. "In a world of unknowns, I know my most valuable sense, my sight, is protected with your products."
Durable frame materials, helmet compatibility, adjustable customizations and lightweight designs make each of the three lenses ideal for law enforcement use.
The M Frame features a thin stem perfect for using with over-ear protection, a hydrophilic Unobtanium nose pad for all weather conditions, permanent fog-free lenses, interchangeable, tool-free lenses, and meets or exceeds the Ballistic Fragmentation Protection requirement per MIL PRF 32432, Clause 3.5.1.1.
The Flak Jacket frame touts a similar customized and secure nose pad, interchangeable lenses, and a three-point fit that ensures precise optical alignment.
"The SI Flak Jacket XLJ is a favorite among law enforcement officers," said Wallace. "It is very lightweight and comfortable, provides great field of view, and can be worn all day. In addition, the rubberized nosepieces and earsocks allow for very good head retention so it will not fall off during a pursuit or foot movement."
The Radar Range frame also features the three-point fit, as well as hydrophobic/oleophobic anti-smudge lens coating, sculpturally-integrated hinge mechanisms with dual cam action, and interchangeable lenses and nose pads.
Oakley's mission is simple: 'Find opportunity. Solve with technology. Wrap in art.' The Special Operations military community was in need of lenses made for better shooting and faster acquisition of targets. Oakley not only answered the problem — they gave them three stylish solutions.