PRESS RELEASE
AOSafety® Introduces the Maxim 2X2 Tactical Air Seal Goggle
---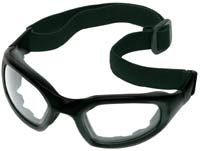 Indianapolis, IN - AOSafety, a division of Aearo Company, has recently launched the Maxim 2X2 Tactical Air Seal Goggle, an advanced-design dual-lens goggle for Military and Law Enforcement.
The Maxim 2X2 provides protection for jumps, close quarters combat, sun, dust and wind. Exclusive air seals provide comfort, impact protection, absorption and flotation.
The low profile design fits under most helmets, and the dual lenses provide excellent orbital eye coverage and a wide viewing range for weapons sighting.
Available with clear and gray anti-fog lenses.
AOSafety is a leading designer and manufacturer of innovative, comfortable eye, face, head, respiratory, and fall protection products that go beyond user expectations.
For more information on the Maxim 2X2 Tactical Air Seal Goggle or other products from AOSafety or Peltor Communications, please visit www.aearo.com