PRESS RELEASE
Tactical Medical Solutions Announces New Product: PMK (Pocket Medical Kit)
---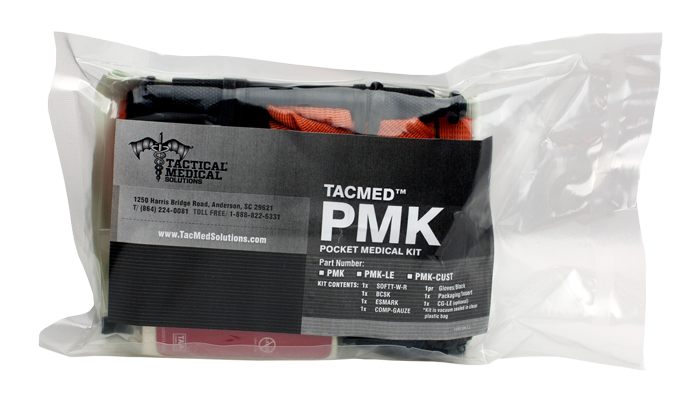 One of Tactical Medical Solutions' newest kits is the PMK, or Pocket Medical Kit. The Pocket Medical Kit provides the individual law enforcement officer with the necessary medical equipment to immediately treat life-threatening traumatic injuries.
The PMK's contents include the SOF® Tactical Tourniquet – Wide in Rescue Orange, Esmark Bandage, Beacon Chest Seal, and black nitrile gloves. The kit comes with either Compressed Gauze or QuikClot® Combat Gauze LE.
The PMK is designed to fit neatly into the chest pocket of a duty shirt, trauma plate pouch of a concealed armor carrier or the back pocket of your jeans. So whether you wear a traditional uniform, external carrier system or civilian clothes, you can be prepared and have the confidence of having a combat proven tourniquet for any emergency situation.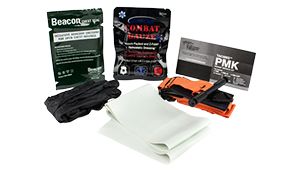 More information on the PMK can be found at our website: https://www.tacmedsolutions.com/product/tacmedtm-pocket-medical-kit/. 
Tactical Medical Solutions, Inc. is a global developer and manufacturer of medical supplies for combat and tactical medicine.

About Tactical Medical Solutions
Law enforcement and first responders around the world face the same tough questions: Is a basic first aid kit capable of treating a serious injury? When a police officer is injured, who will reach them first? How long will a victim have to wait for a scene to be called safe? Tactical Medical Solutions® has provided the answer from the streets of Los Angeles, to the alleys of New York, on the duty belts of Philadelphia, to every patrol car in Dallas. TacMed™ offers a full range of trauma kits and components, and with the ability to customize, we can build one for your application.