PRESS RELEASE
Tasmanian Tiger to showcase innovative law enforcement solutions at NTOA's law enforcement operations conference and trade show
---
Tasmanian Tiger will display new items at the 40th annual trade show, held at the Gaylord Rockies Resort & Convention Center in Aurora, Colorado, Aug. 27 – Sept. 1, 2023.

KNOXVILLE, Tenn. — Tasmanian Tiger, a tactical nylon line of products distributed exclusively for the US market by Proforce Equipment, Inc., is thrilled to announce its participation in the upcoming National Tactical Officers Association (NTOA) Law Enforcement Operations Conference and Trade Show. The event is set to take place at the esteemed Gaylord Rockies Resort & Convention Center in Aurora, Colorado, from August 27th to September 1st, 2023.
"We are excited to be a part of the NTOA's Law Enforcement Operations Conference and Trade Show," commented Richard Lewis, President and CEO of Proforce Equipment, Inc. "The Tasmanian Tiger team has worked diligently to develop solutions that address the evolving challenges faced by law enforcement professionals. We look forward to showcasing our products and engaging with attendees to better understand their needs and requirements."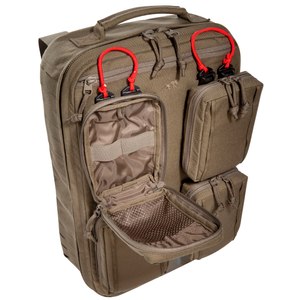 At Booth 931, Tasmanian Tiger will unveil its latest innovations in tactical gear, equipment, and solutions designed to empower law enforcement officers with cutting-edge tools for their critical missions, including its new TT Medic Mascal Pack, TT Medic Transporter, and TT Plate Carrier QR LC. As a trusted name in the industry, Tasmanian Tiger is committed to supporting the law enforcement community by providing gear that offers functionality, durability, and the highest level of performance.
Designed specifically for the needs of Active Threat Medics (ATM), the TT Medic MASCAL (Mass Casualty) Pack is a first aid treatment pack that is optimized for simultaneous initial treatment of multiple wounded persons when individual treatment is not immediately possible. One of the key features of the TT Medic MASCAL Pack is its practical and efficient design. The front of the backpack is equipped with four Individual First Aid Kit (IFAK) pouches, allowing for quick and easy access to essential supplies. The interior layout is strategically organized to accommodate a large stock of medical supplies for emergency operations involving mass casualties (the pack does not come equipped with medical supplies). Additionally, the sides of the pack are equipped with MOLLE in a laser-cut design, providing ample space for attaching additional gear or accessories. The pack comes with a handle for easy transport and includes a scissor bag for added convenience. It is available in Black, Olive, and Coyote for an MSRP of $289.00 and Multicam for an MSRP of $319.00.
The TT Medic Transporter is a transportable pouch panel that contains one large panel (41.3x20.8 in/105x53cm) that can divide into four smaller panels. The pouches include one dump pouch, three transparent pouches with zip compartments, and five transparent pouches. Labels include two BREATHING, two BLEEDING, two AIRWAY, two IV/IO, one MEDICATION, and one HYPOTHERMIA. The TT Medic Transporter features four durable handles with a robust no. 10 zipper. There are three MOLLE hook & loop adapters to secure hook & loop pouches. The transparent pouches are all detachable and can be interchanged. Some of the transparent pouches have two compartments and various loops. The large, long pockets on the backs of the panels all have attachments to secure to tents, vehicles, and more. Available in Olive, Black, and Coyote. MSRP $649.
The TT Plate Carrier QR LC is a lightweight plate carrier designed to offer a sleek and modern look, with a MOLLE system in laser-cut technology. The TT Plate Carrier QR LC is designed to fit SAPI plates of 12 x 10 in. (30 x 25 cm). It features a quick-release system with ROC buckle, which allows the wearer to remove the plate carrier quickly and easily in case of an emergency. The shoulder straps are adjustable, ranging from a minimum of 11 in. (28 cm) to a maximum of 20 in. (52 cm), providing a comfortable and customized fit for all users. One of the most notable features of the TT Plate Carrier QR LC is its laser-cut MOLLE system, which gives the plate carrier a clean and streamlined look. The front and side areas of the plate carrier also feature a MOLLE system, which allows for individual customization and extension. Additionally, the TT Plate Carrier QR LC is compatible with many other TT products, allowing for seamless integration. The plate carrier also includes an integrated radio equipment pocket and switchable side sections for using pouches for ballistic side plates. It is available in Black, Olive, and Coyote for an MSRP of $379.00 and Multicam for an MSRP of $399.00.
The NTOA's Law Enforcement Operations Conference and Trade Show is a premier event in the law enforcement community, gathering professionals from around the nation for six days of comprehensive training and networking. With a lineup of over 100 seminars and incident debriefs, the conference aims to offer valuable insights, enhance tactical skills, and promote leadership and professionalism among law enforcement personnel.
The two-day trade show segment of the event will showcase the latest advancements in law enforcement technology, and Tasmanian Tiger is proud to contribute to this display of innovation. Attendees can explore the company's comprehensive range of tactical bags, vests, pouches, and accessories designed to enhance operational effectiveness and officer safety.
To learn more about the NTOA Law Enforcement Operations Conference and Trade Show, visit https://www.ntoa.org/conferences/tactical-conference/. To view the full TT Law Enforcement line of products, visit https://tasmaniantigerusa.com/category.php?id=3.
Click to see the 2023 Tasmanian Tiger New Items digital catalog here or the Vol. 3 Product digital catalog here. Find a local dealer here for any of the exciting Tasmanian Tiger products.
Stay in the conversation by following us on Facebook, Twitter, and Instagram. All sales inquiries can be directed to tt@tasmaniantigerusa.com. 
About Tasmanian Tiger
Tasmanian Tiger®, a division of Tatonka GmbH, is an international brand founded in 1999 to provide user-design-driven nylon products to elite warfighters and law enforcement in Europe and Asia. From prototype to production, all products are manufactured in the company's own facilities, thus ensuring a consistently high level of quality throughout the production processes. All products are quality-checked before leaving the facility and checked regularly by independent international test centers.