Officer wellness: Prioritizing mental & emotional health (eBook)
Download the eBook to access strategies to help agencies and officers develop wellness programs and other coping techniques
---
By Police1 Staff
For many officers, policing is an inherently stressful job – one that is made more stressful by their emotional commitment to the profession. 
Fortunately, awareness is growing about the risks law enforcement officers face from repeated exposure to emotional trauma and high-stress incidents. More agencies are stepping up to prioritize officer mental and emotional health – and realizing the benefits.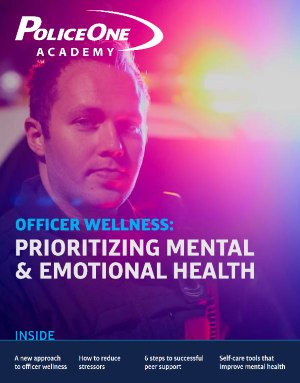 This eBook provides strategies to help agencies and officers develop wellness programs and other coping techniques to recognize and mitigate the potentially dangerous effects of a career in law enforcement.
You'll learn:
Why agencies need to eliminate the dangerous mindset that officers are "bulletproof"
How leaders can take a proactive stance in mitigating officer stress
6 steps to launching a successful peer support program
Ways officers can employ self-care techniques to reduce the impact of job stress
Fill out the form below to download the Police1 Academy free eBook, "Officer wellness: Prioritizing mental & emotional health."