Beyond empathy: Why compassionate communication is a better key to de-escalation
VirTra's compassionate communication training aligns with police objectives while mitigating trauma exposure
---
Sponsored by VirTra
By Katja Ridderbusch for Police1 BrandFocus
Two police officers are called to the scene of a violent crime. The first person they speak with, a badly beaten-up individual, appears to be the victim. The officers sit down with them, listen to the story and soon enough, they're all in – assuring they can relate, promising they will track down the perpetrator and get justice. But as they interview the second person involved, they realize the first person might not be the victim but the suspect. They need to do a mental course correction. They became emotionally overinvested and made promises they can't keep.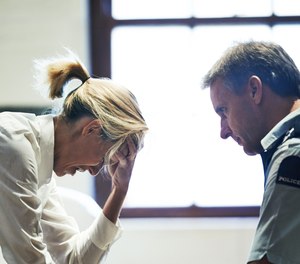 The officers did what they were taught to do: empathize. "For too long, law enforcement training has operated under the premise that empathy is the answer to everything," said Nicole Florisi, an Arizona police officer of 22 years, a professional counselor with a focus on trauma treatment, and a subject matter expert for VirTra, the global manufacturer of virtual reality and simulation technology for law enforcement and military training.
But "forcing these empathetic connections" is often counterproductive and even harmful, says Florisi, who also works as an instructor for the Force Science Institute. For VirTra, she's helped develop a new training curriculum called Compassionate Communication that will debut soon.
Compassionate Communication teaches a set of communication skills used to meet people where they are without falling into the trap of becoming emotionally overinvested.
Empathy has a downside
Florisi says empathy is a good idea conceptually, but it has no clear objective in the police context. Solely using empathy can steer officers away from investigating the crime or getting appropriate help for people in distress. "No one makes good decisions under the effect of emotions, police officers included," she added.
Also, forming a personal bond with people they interact with, victims or suspects, can easily lure officers into identification and self-disclosure. "Empathy can create an unhealthy dynamic of oversharing," Florisi said.
But the main risk of pushing empathy-based training on officers is secondary and vicarious trauma.  Police officers experience enough trauma as it is, Florisi says, whether it's cumulative – "the horrible things they see, hear and smell over their entire career" – or trauma following a specific incident, like a shooting, child death, or fatal car wreck.
The essence of empathy-based training, the idea of making police officers walk a mile in someone else's shoes, "is a bad one," she added. "Because it pushes them to make emotional connections, but we don't teach them how to disconnect."
Florisi references a 2016 book by Yale University psychologist Paul Bloom, "Against Empathy: The Case for Rational Compassion." In his book, Bloom uses clinical studies and commonsense logic to argue that empathy, however well-intentioned, creates a slippery slope for moral reasoning.
Inspired by Bloom's book, Florisi says implementing the concept of compassionate communication in law enforcement training takes more than just replacing the word empathy with compassion. "It's about shifting a mindset."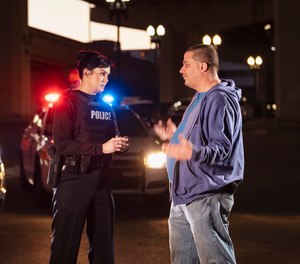 Compassionate communication gives police officers additional tools – TOOLS empathy alone is sorely lacking
This should be a natural sell, she adds, because communication is the skill and tool police officers use most, far more than force. Compassionate Communication helps officers recognize which type of communication is most effective for the person and the situation at the time – and offers a flexible set of tools to apply, from active listening, persuasion influence and problem-solving to crisis communication.
Florisi gives the example of a person with five children, the primary breadwinner who recently lost their job. They've fallen behind in rent and are going into a crisis. If the officer called to the scene goes into problem-solving mode right away – suggesting, for instance, the person apply for another job – that will probably not work, says the expert. "If we meet emotion with logic, it tends to escalate the situation."
Unlike empathy, Compassionate Communication is goal-oriented, Florisi continues. It aligns with whatever the respective police objective is – stop the threat, track down the suspect, support the person in distress, or investigate the case – while at the same time mitigating the officer's trauma.
The concept of Compassionate Communication ties, in part, into Crisis Intervention Team (CIT) training. CIT training, developed in the late 1980s, teaches law enforcement officers how to interact safely and effectively with individuals in a mental health crisis. While CIT is a valuable tool, Florisi says Compassionate Communication is much broader. Not everyone police officers encounter is in a crisis, she explains, and not everyone who's in a crisis has a mental illness.
Florisi says that while knowing a diagnosis is informative for a police officer, "we don't focus on a diagnosis. We meet the person at the behavior they're presenting when we get to the scene."
Build confidence from the classroom to the street
The fundamental nature of VirTra's upcoming Compassionate Communication training is that it has "multiple delivery modes, offering agencies the most flexibility," said Lon Bartel, VirTra's director of training and curriculum. Selected agencies will beta-test the curriculum before the official rollout.
Training scenarios can be taught in a simulator or through virtual reality headsets. VirTra uses a technology called volumetric capture, or volumetric video, which refers to filming a place, object, person or event in a way that it appears in a three-dimensional space. When recording a person for training, the technology allows the viewer to rotate or move around to capture the different dimensions and components of communication, like facial expressions and body language.
Florisi says sometimes younger officers who have grown up behind a tablet computer aren't as adept at picking up on nonverbal cues or reading body language and facial expressions as their older colleagues are. "The virtual reality training will help them with that, but let's be clear, not CGI. CGI does not provide the vital subtleties of real human behavior, affect, and emotion."
Compassionate Communication is not designed to be taught in a traditional classroom setting, like a weeklong, 40-hour course. Agencies can break it up into whatever segments work for them and their schedules – whether it's several one-hour blocks embedded in scenario-based exercises or 15-minute microtraining events during daily or weekly briefing sessions.
"We're building these scenarios to make sure officers have the confidence to easily transfer these skill sets from the learning environment to the street," said Florisi.
The concept of compassionate communication seems particularly relevant at a time when de-escalation has become a buzzword. "What the public often doesn't understand is that officers don't de-escalate," said Florisi. "They ideally provide a safe space for people to de-escalate themselves." Compassionate Communication training offers a critical tool to support the process, she adds, while also teaching officers something that's long been missing – "the ability to self-regulate."
To learn more about VirTra's nationally certified simulation curriculum, visit VirTra.com
Read next: Calling out other officers: Why officers have a duty to intervene and how to do it without hesitation
About the author
Katja Ridderbusch is an Atlanta-based journalist who reports about health care and law enforcement. Her work has appeared in "U.S. News & World Report," "Time," "Kaiser Health News," the "Atlanta Journal-Constitution" and NPR.

Request information from VirTra
Thank You!