PRESS RELEASE
Municipal Graphics Designs Graphics for the Dartmouth, MA Police Department's New Interceptor SUVs!
---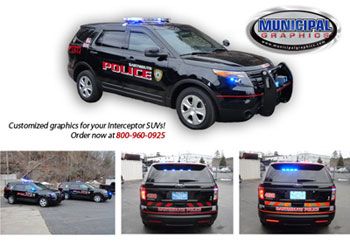 Wrentham, Mass. - Municipal Graphics designed graphis for new Interceptor SUVs in Darmouth, Mass. The graphics feature high-quality reflective printed and cut graphics. The fleet also gets our "Cruiser Visibility Package" which includes prismatic reflective material for superior visibility and protection. To order customized graphics for your Interceptor SUVs, call us today at 800-960-0925 or visit us online at www.municipalgraphics.com.
About Municipal Graphics
Municipal Graphics specializes in the design, manufacturing and application of high quality police graphics. With the use of the latest technology and equipment. Municipal Graphics can design and install a new graphic package or replicate an existing one at an affordable price.