PRESS RELEASE
Vinyl Graphics Offers Another Budget-Friendly Design
---
use if there is a picture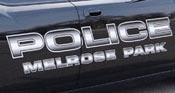 Sometimes less is more. This year, the Melrose Park Police department in Illinois went with a striking monotone design for their new fleet. Set on black cars it offers a very distinctive look with a few advantages. Without sweeps, stripes, or other graphics this design is more budget friendly than others and still maintains a look of professionalism.
Our graphic designers are just a phone call away willing to help you through the design process and help to keep you on budget. Melrose Park is serviced by Len Bulat of Car Reflections (Naperville, IL), one of our nationwide installers in the Chicago area.
For more information visit www.police-graphics.com or call 800-521-1884.

Request more info from Vinyl Graphics
Thank You!