Federal Signal Announces New PA300-CN Siren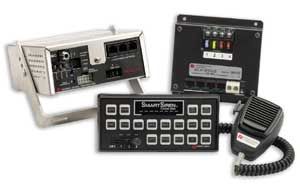 UNIVERSITY PARK, Ill. - Federal Signal's PA300-CN is a versatile light and siren controller that is affordably priced.
The PA300-CN controller utilizes the SmartSiren controller — the most recognized control head in the law enforcement industry. This electronic siren offers the standard siren tones (Wail, Yelp, Priority, Air Horn and Manual) with several additional features such as horn ring transfer, radio and PA rebroadcast.
Unlike traditional wired systems, the PA300-CN provides ease of installation and programming with FS Convergence Network capability. For more information, visit www.fedsig.com.
About Federal Signal
Federal Signal Corporation enhances safety, security and well-being of communities and workplaces around the world. Founded in 1901, Federal Signal is a leading global designer and manufacturer or products and total solutions that serve municipal, governmental, industrial and institutional customers. Headquartered in Oak Brook, Ill., with manufacturing facilities worldwide, the company operates four groups: Safety and Security Systems, Technology Group, Environmental Solutions and Fire Rescue. For more details about Federal Signal, visit: www.fedsig.com.