PRESS RELEASE
Vinyl Graphics proudly provides graphics for Fueled By The Fallen program.
---
Vinyl Graphics is proud to be the graphics provider for the Fueled By The Fallen program. This is a non-profit organization recently developed to honor police officers that have fallen in the line of duty and to educate people of the sacrifices they have made.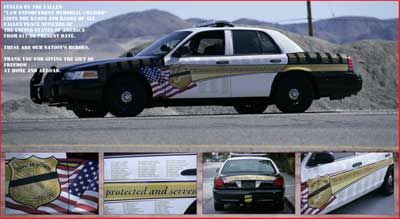 Acclaimed actor Kevyn Major Howard (Full Metal Jacket) introduced this new program with a memorial squad car at this years SEMA show in Las Vegas on the 2nd of November.  The retired Crown -Vic received a new set of graphics with a list of the names of the Nation's Fallen Peace Officers since 911.  The response was overwhelming with three television stations stopping by for interviews the first day of SEMA.
 
This program follows on the heels of the successful Fueled By The Fallen program, which honors the fallen American service men and women on their own Memorial Race Cars perspective to their enlisted branch. This program uses (5) dragsters and (2) Funny Cars to create public awareness.
Donations raised will provide financial assistance and support to families who have lost sons, daughters, husbands, and wives, to the injured returning home, for scholarships to the children left behind, and to those who need mortgage relief while their loved one's defend America from the War on Terrorism.
It is our mission to give back to the families of our fallen and injured heroes and create awareness for those who made the ultimate sacrifice in the defense of freedom.
For more information go to www.FueledByTheFallen.com and www.police-graphics.com.

Request more info from Vinyl Graphics
Thank You!